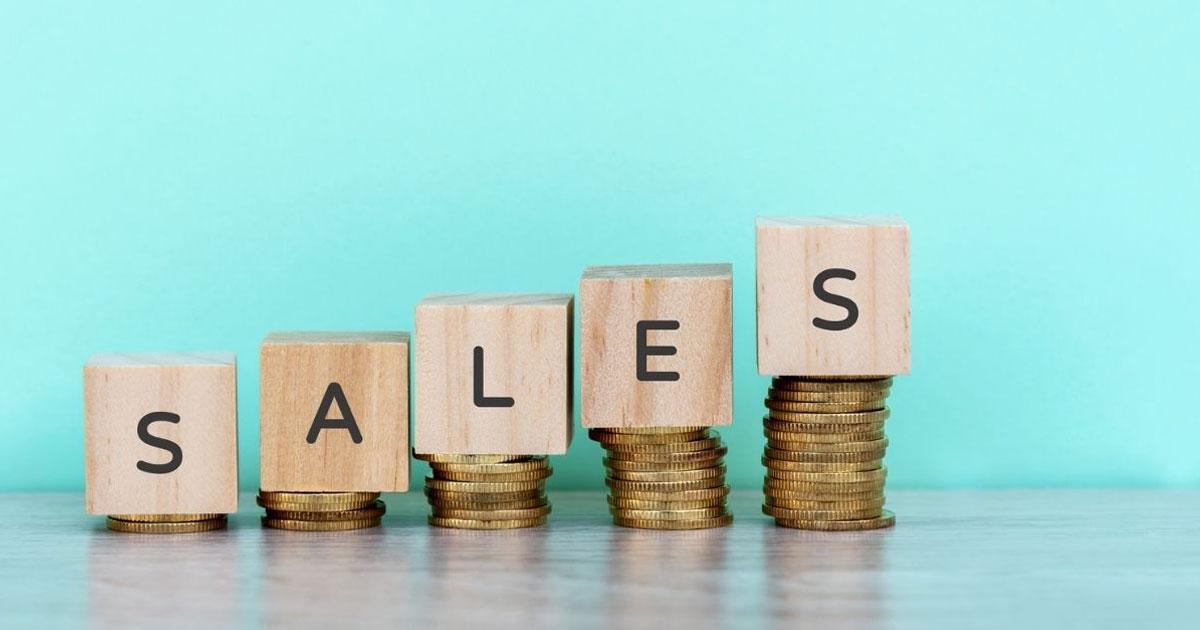 Dynamics 365 Sales HowTo
After longer break due to larger workload, we will continue our Dynamics 365 journey with Dynamics 365 Sales module.

Sales module is made of four areas(at least in trial version):
Sales
App Settings
Sales Insight Settings
Personal Settings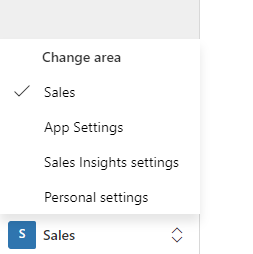 As always, I will always go though details of every area. Ready. Steady. GO.
Starting screen is made of various interesting information, where you can take a video tutorial about sales acceleration, managing oppurinitues or forecasting revenue(which is actually very important). There is also possibility to explore iOS and Android apps, which is actually leading you to app market to download and install app. In one of next blogs I will write about mobile app.
 
Sales area is made of following components:
Home
Recent
Pinned
My Work

    Get Started
    Sales Accelelator
    Forecasts

To Do
Sales Records

    Leads
    Opportunities
    Contacts
    Accounts
Before we start, Home part and Get Started in My Work component are basically the same and at the moment they represent Welcome screen which I have described few scrolls up.

Basically, we can start with Sales accelerator, it is used to minimize time spent to identify next best customer to reach to using work lists. Sales people can prioritize customers and sales managers can define steps to help sales people to make their best contact using sequences.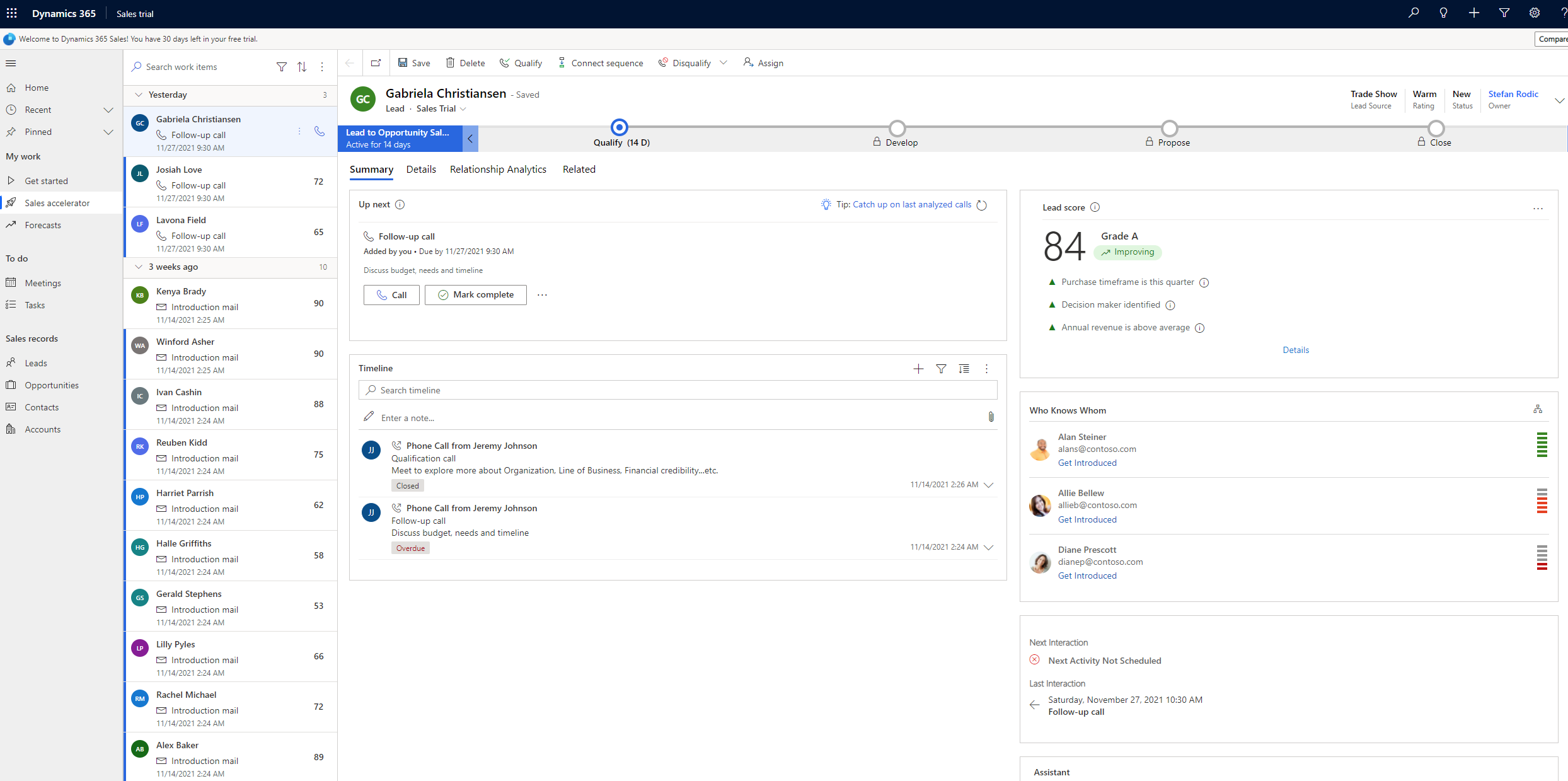 Screen of sales accelerator remind me very much of outlook email client. On left side we have Dynamics 365 menu, on right we have list of contacts, when contact is selected, we have more details about contact. We can se that call can be made or it can be marked as done. On top we can see old school path of Lead, Lead to Opporunity > Qualify > Develop > Propose > Close. Also there is one new thing, which is Lead score. Lead score helps identify how likely is Lead to be qualified. 
One more thing that I am amazed of is under Lead score, which is Who knows who. This is similar to Linkedin features of connections. Very awesome thing to have when making a sale.
Already here we can see how Microsoft successfully integrated parts of business logic from other platforms they bought over the years.
There are additional screens here, Details, Relationship Analytics and Related.
Well, Details are details on our lead with various information.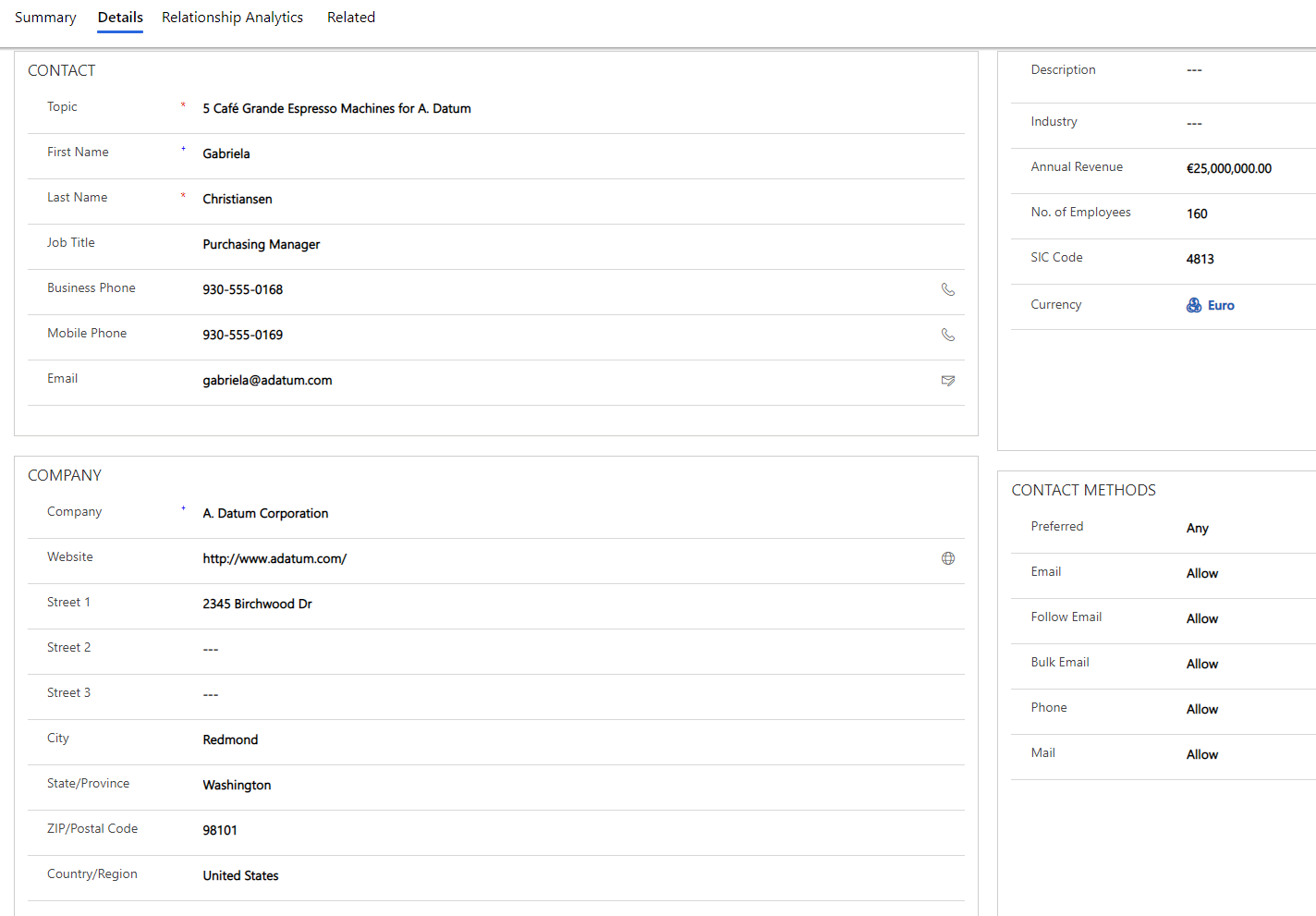 Relationship Analytics are mind-blowing. Enough information to make sale possible and track every activity with Lead.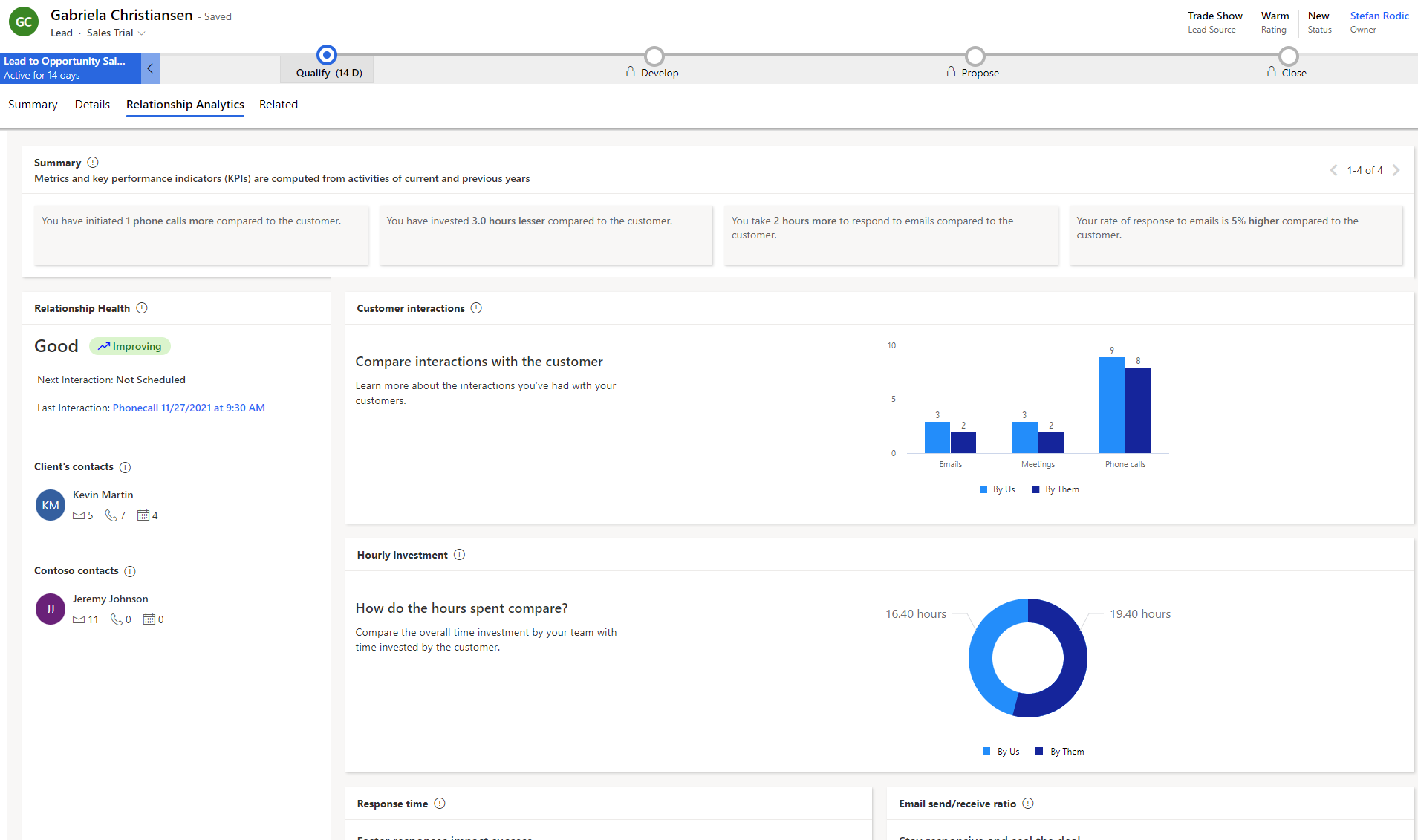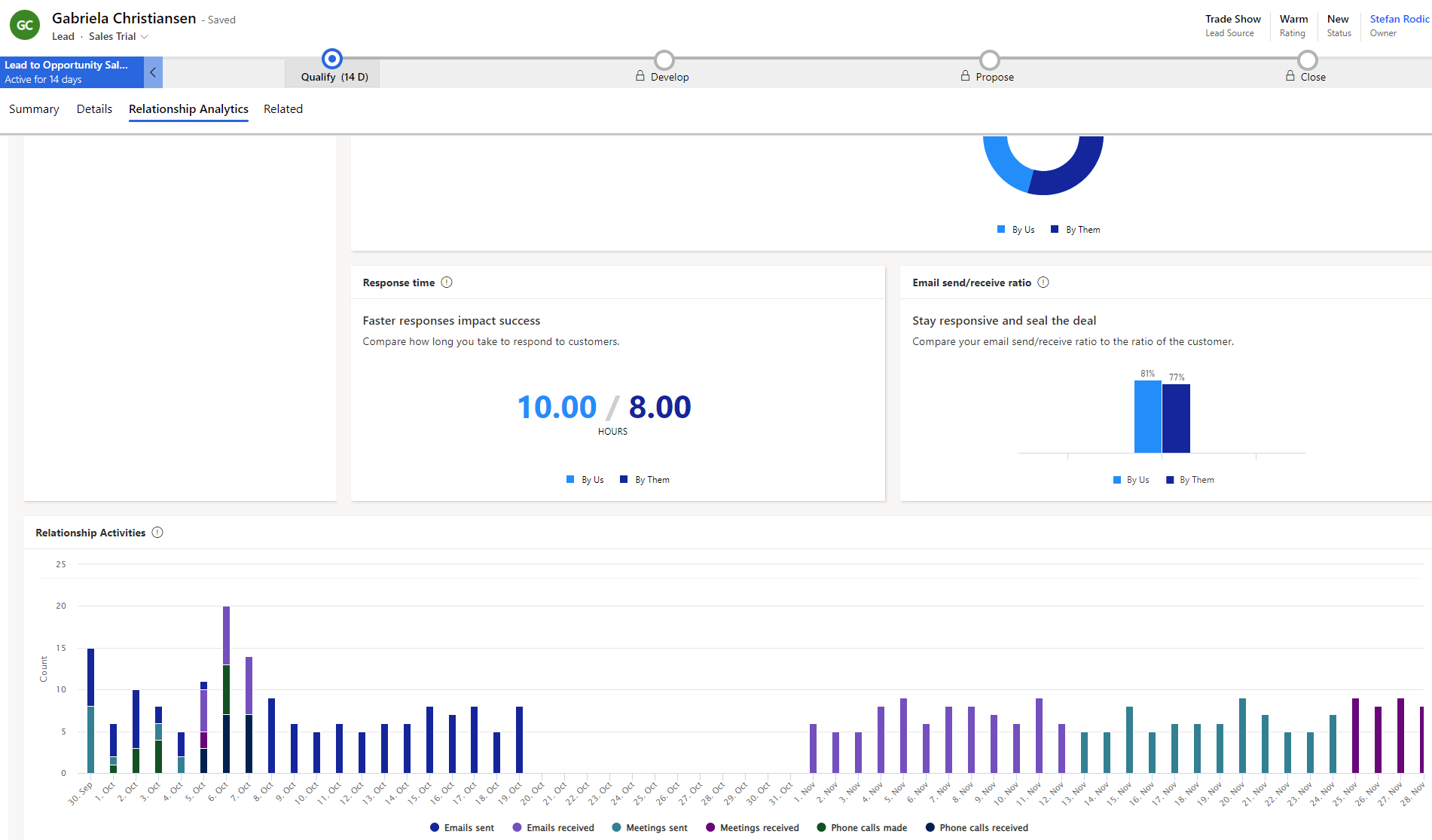 Below is explanation of Relationship analytics directly from Dynamics 365.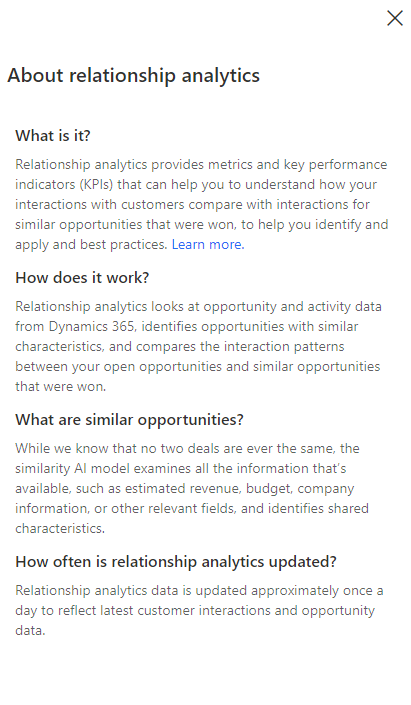 Related screen is as always, related to other Entities which is familiar to all of us, so no need to write about that. 
More on Sales accelerator: 
https://docs.microsoft.com/en-us/dynamics365/sales/sales-accelerator-intro
 
Forecasts are used to predict how much revenue organization is going to generate in specific timeframe. Long story short, with forecasts you can also track sales performance and improve it, to change product strategy, to reallocate resources if needed or to identify pipeline risks.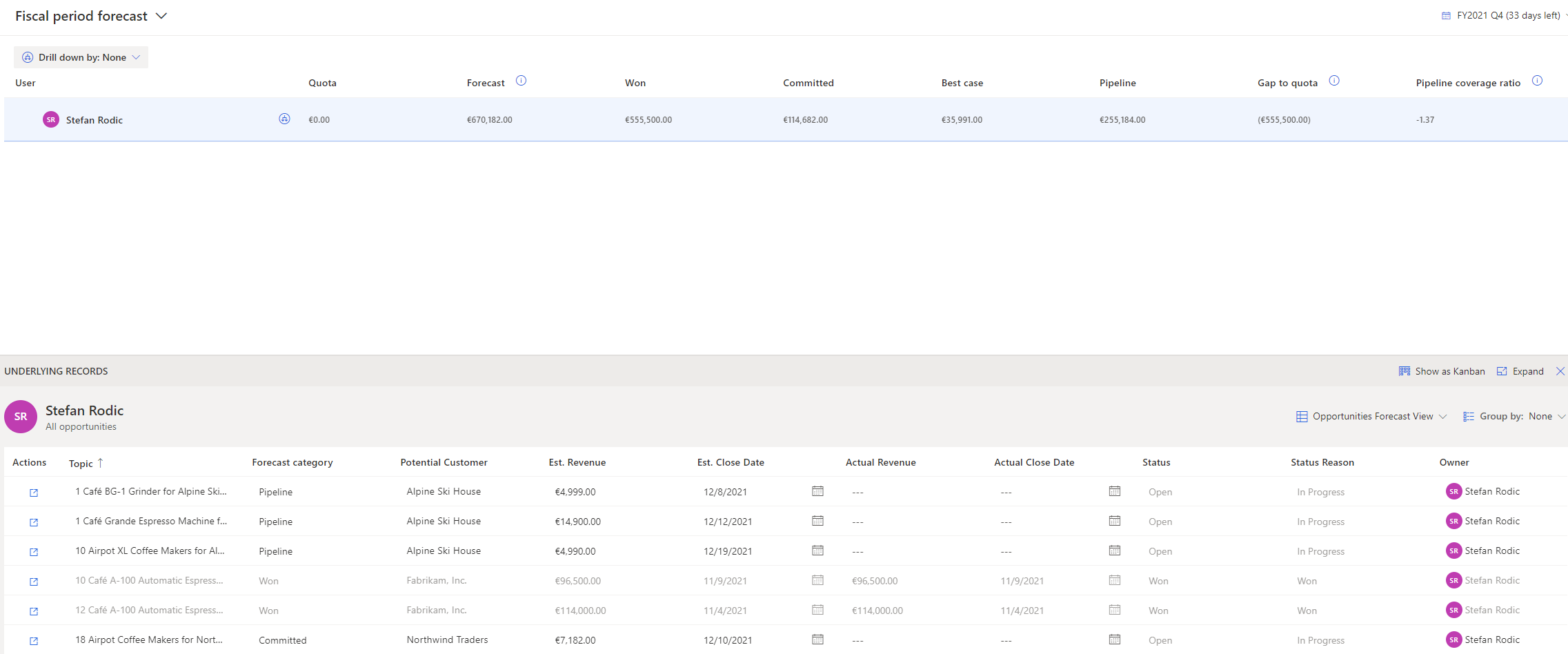 You can preview opportunites inside forecasts, which looks like below.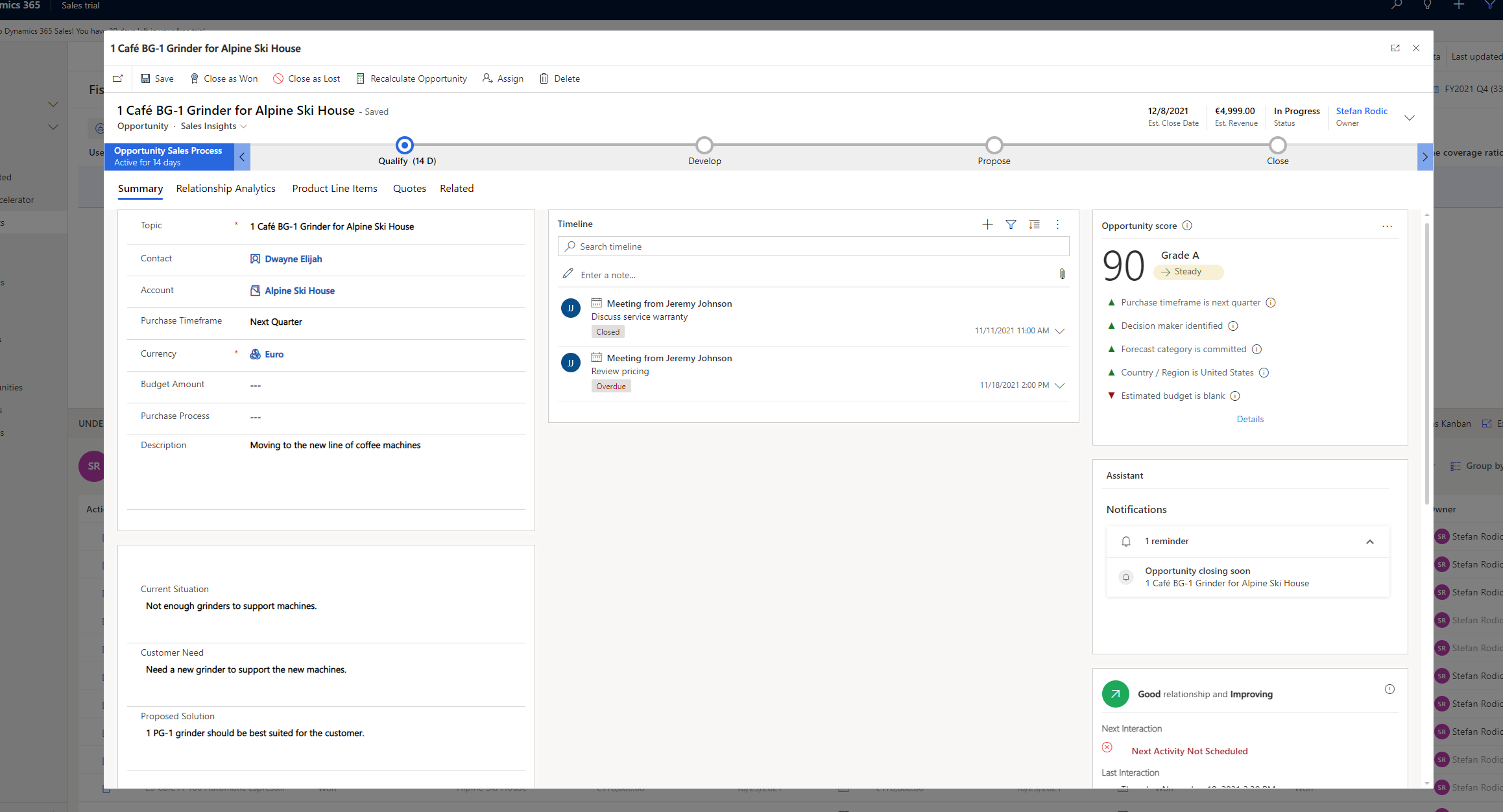 Interesting thing in forecasts is button in top right corner, which says "Recalculate Data". It is used to recalculate data of whole forecasts in matter of seconds. I would say that it uses calculated fields, and yes it does, but it uses much more in background for sure.
In To Do part, first thing is Meetings, which looks like much Outlook client calendar.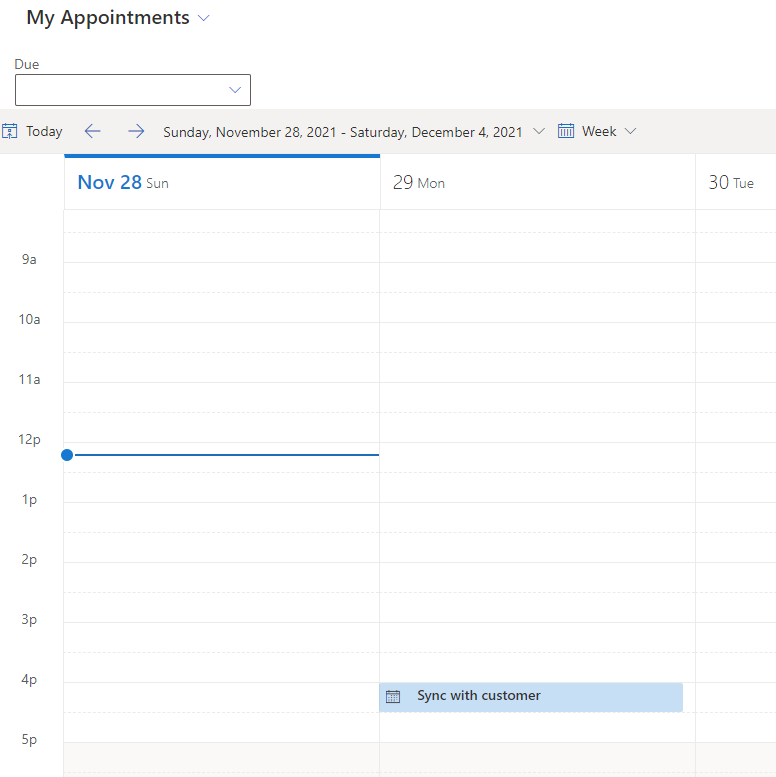 Next thing is Tasks, with statuses Open, Completed, Cancelled, Scheduled.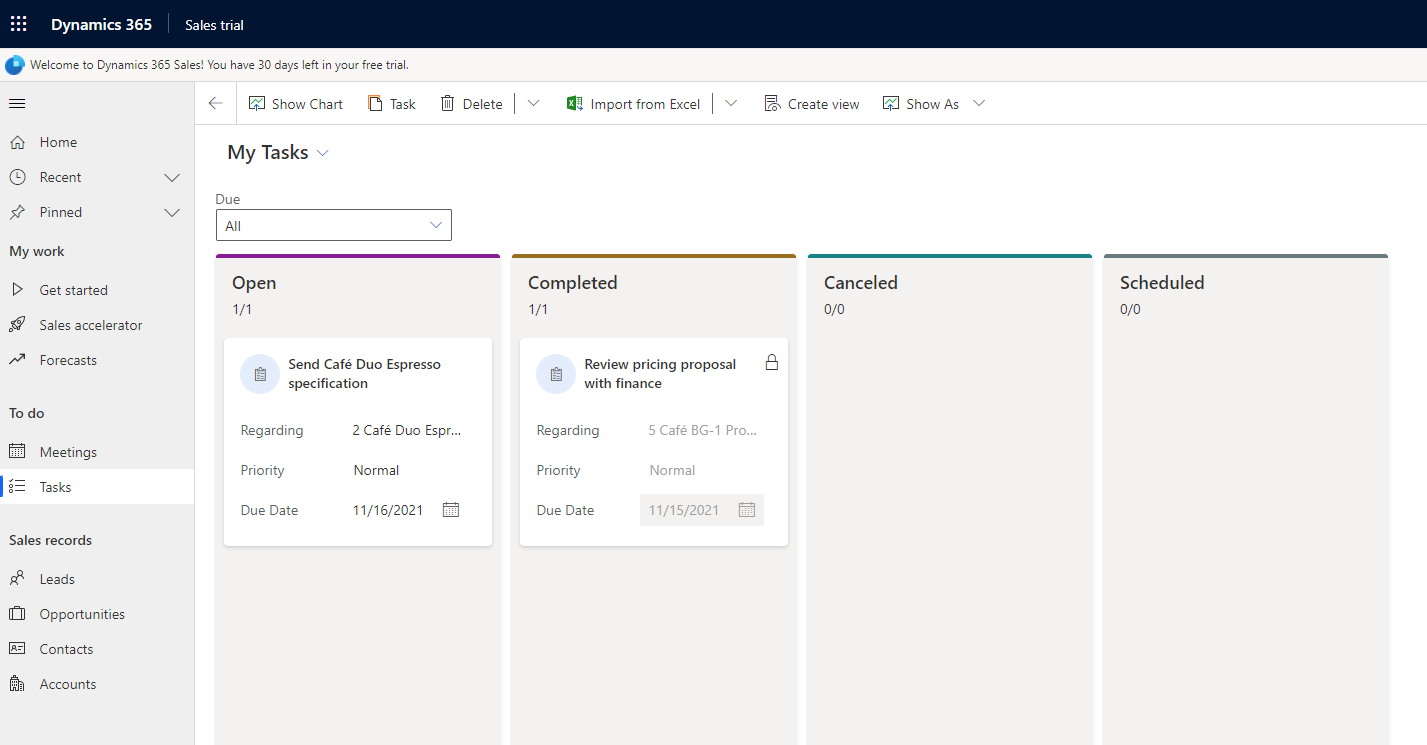 One very nice thing here is that Tasks can be manipulated with "Drag and Drop" method which I like very much.
In Sales Records part we will start with Leads. As we all know Leads are our potential customers. As always, list of leads is there when we open Entity. What is more interesting is when we open one Lead. We can see that Sales Accelerator and Leads are working very tightly with data and information. Scroll up and compare Sales accelerator screen with Leads screen, it is more less, same with similar data.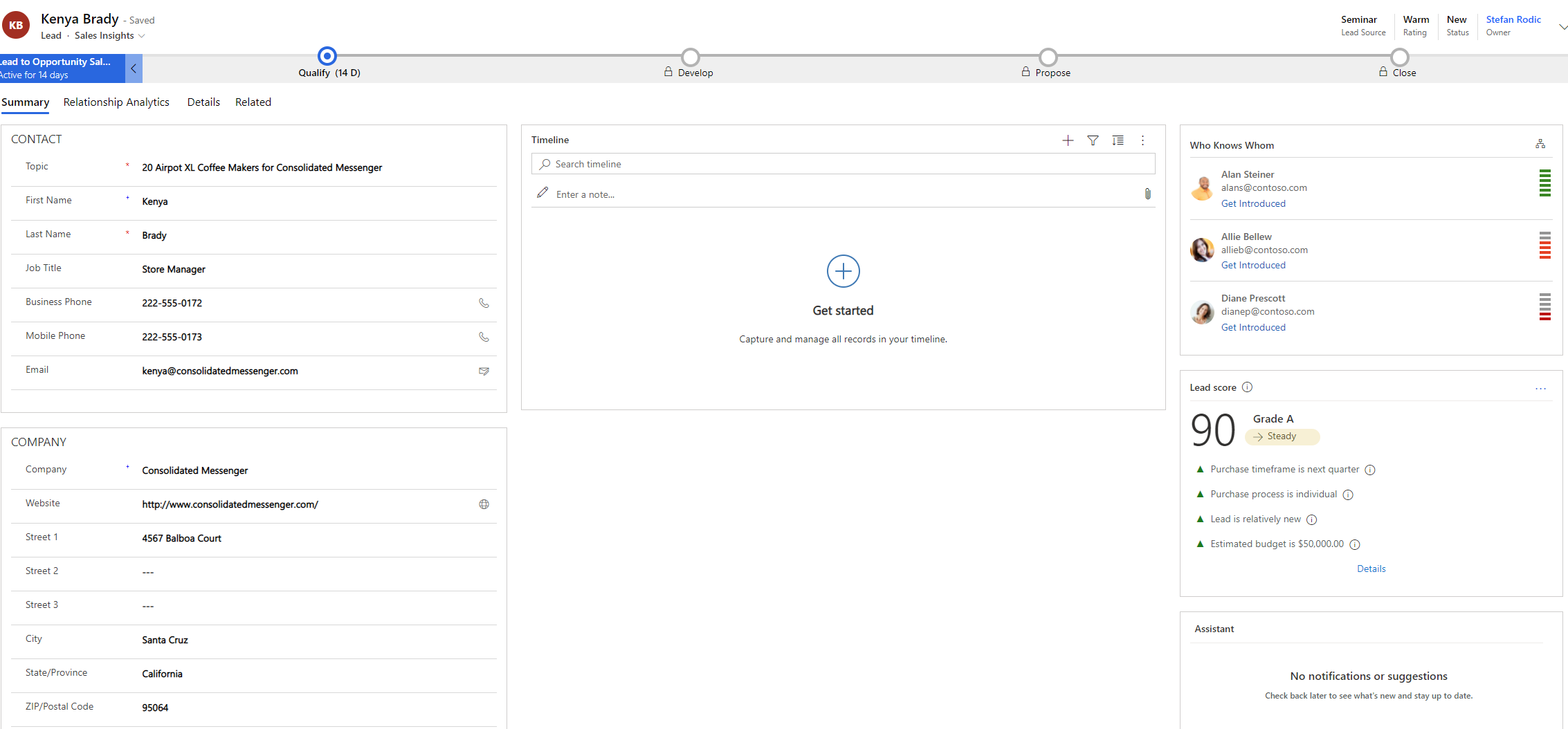 Next in line is Opportunity, which is still potential sale, like a Lead, but opportunity goes into forecast revenue this time, Lead does not.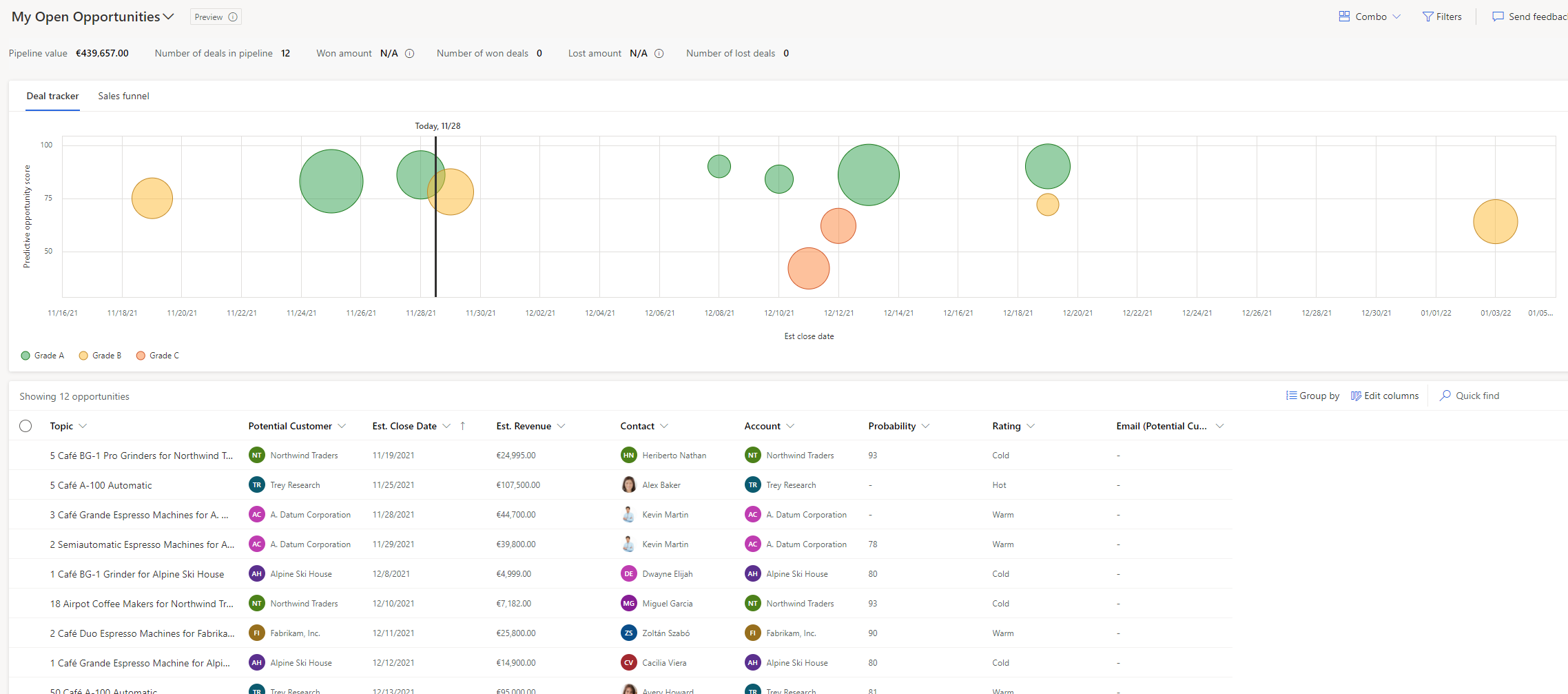 As we can see again, Opportunity, Lead and Sales accelerator work together.
Interesting thing here is graph on first screenshot. Circle represent opportunity, being up or down indicates predictive score and colour is opportunity score. If you ask me, very useful visual representation of data.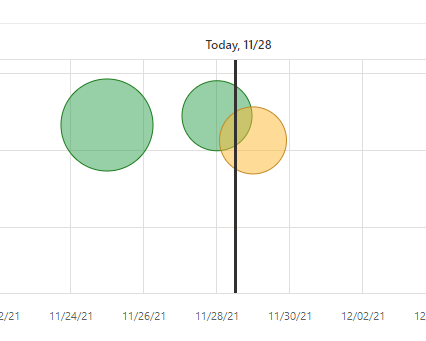 Next parts are Contacts and Accounts, I would not spend time writing about them, since we have all seen them before. They are unchanged, just got connected with forecasts and sales accelerator.
Screenshots below represent first Contact and second Account.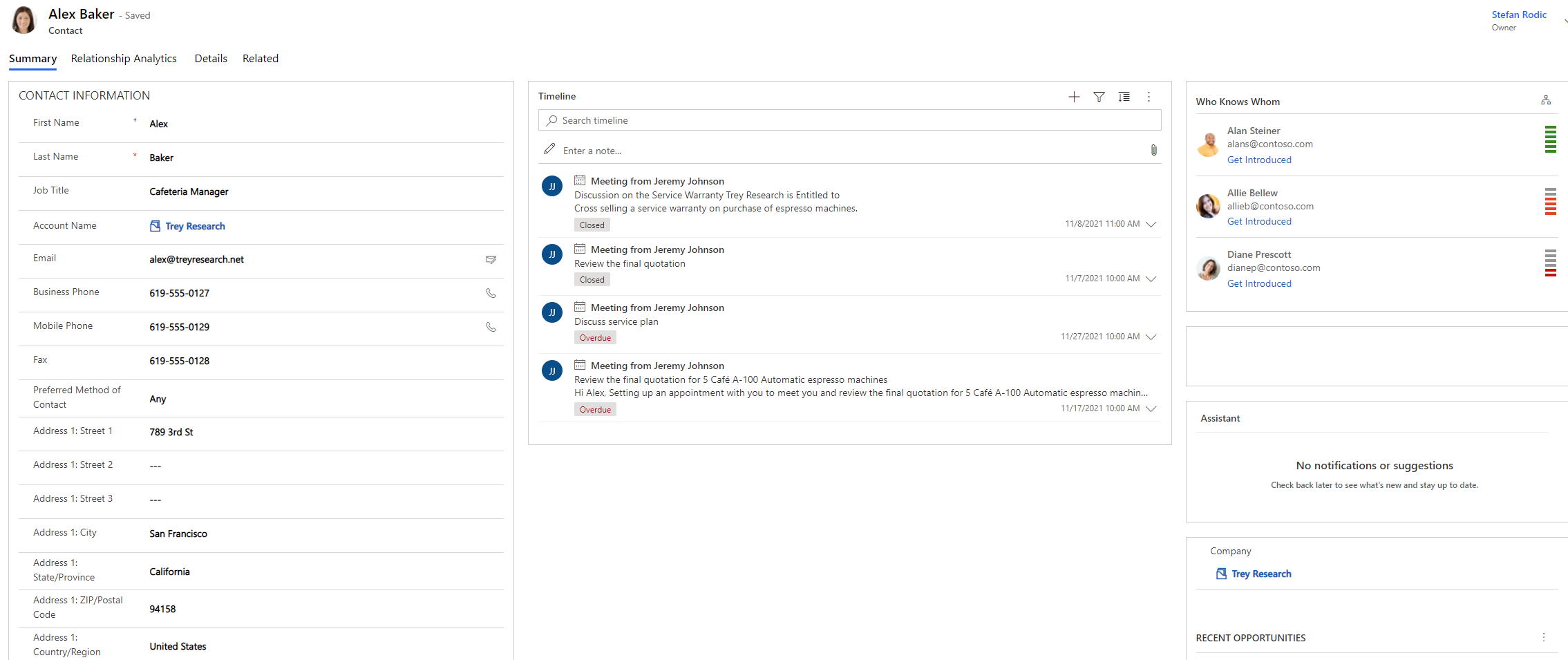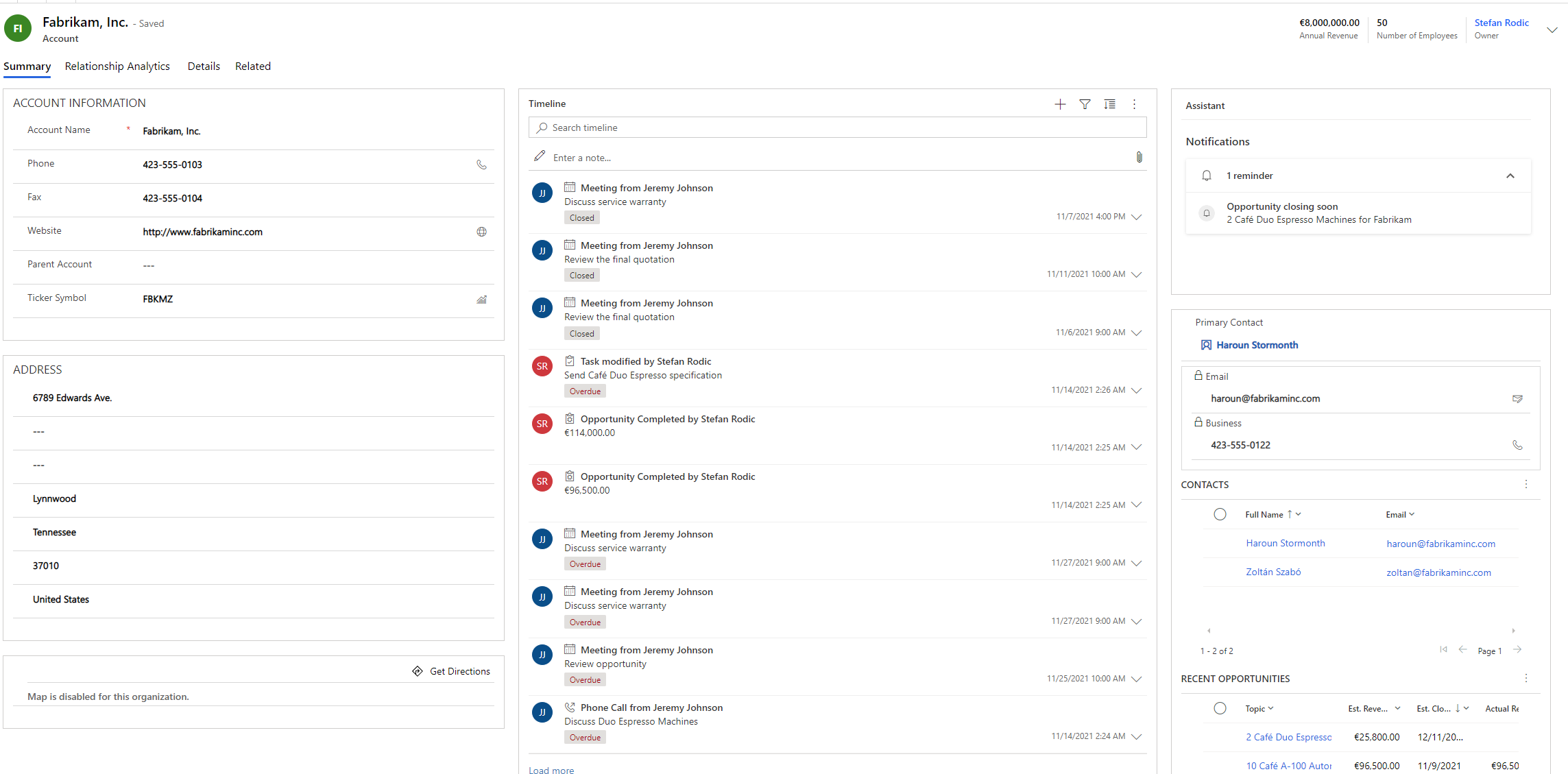 I hope that I have managed to cover most important and interesting things in this first blog about Sales module. 
Keep safe and stay cool : )
 
Dynamics 365 Sales HowTo