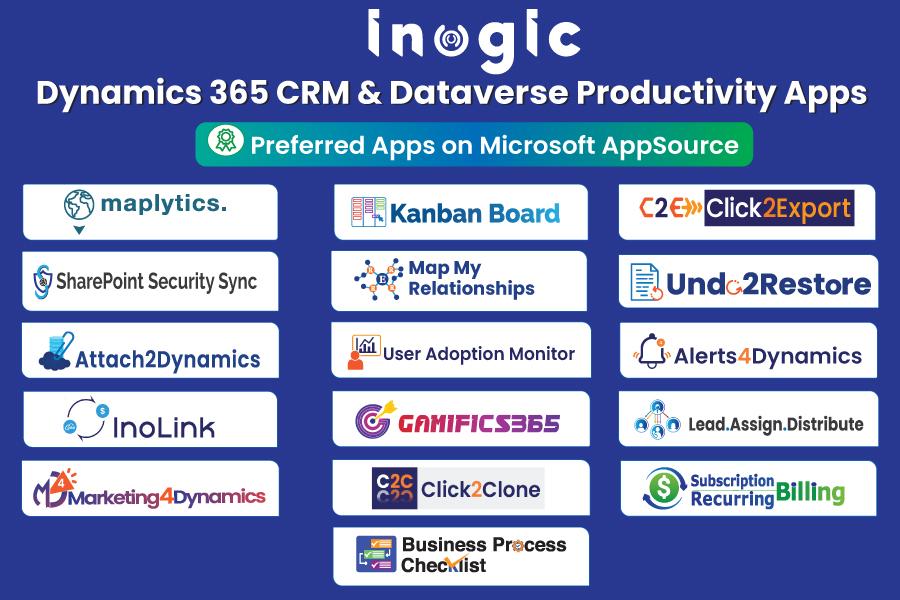 Inogic has always been a hub of distinct and innovative apps for Microsoft Dynamics 365 CRM / Dataverse (PowerApps). Being a leading Microsoft Dynamics 365 ISV partner for more than 12 years, we have a deep understanding of how users interact with Microsoft Dynamics 365 CRM and Power Platform. We at Inogic always strive hard to develop solutions/apps that help organizations improve their business processes and achieve high ROI.
In this article, we have gathered a list of Microsoft Preferred Apps for Microsoft Dynamics 365 CRM by Inogic which can help you accelerate productivity and enhance customer relationship management.
These apps integrate seamlessly with your Microsoft Dynamics 365 CRM, automate repetitive tasks, and reduce time spent on redundant data entries. For more information on these apps, keep reading!
Integrations with Microsoft Dynamics 365 CRM:
A multi-language Geo-spatial mapping app that integrates Microsoft Dynamics 365 CRM /Dataverse. Maplytics helps businesses around the world plot, plan, visualize, and analyze Microsoft Dynamics 365 CRM data on the map. Maplytics empowers users across verticals with the features like Territory Management, Radius Search, Appointment Planning, Truck Routing, Optimized Routing, PCF Controls, Heat Maps, Analytical Dashboards, Mobile Maplytics, and much more within Microsoft Dynamics 365 CRM / Dataverse (Power Apps).
A cloud-based integration app that provides a secure integration between accounting software Intuit QuickBooks and Microsoft Dynamics 365 CRM. InoLink helps in understanding the customer's historical data as aging balances, transaction history, and totals with the help of its 360-degree view of the customer. With InoLink users can sync a single instance of Microsoft Dynamics 365 with multiple QuickBooks companies. Currently, it supports the US, UK, Canadian, and Australian versions of QuickBooks Online.
Another Integration app from Inogic that allows getting essential marketing insights directly from your MailChimp campaigns to Microsoft Dynamics 365 CRM. This integration app syncs Microsoft Dynamics 365 CRM and Mailchimp data and ensures easy and quick access to information without navigating from one application to another.
Document and Storage Management Apps:
A Document Management app for Microsoft Dynamics 365 that provides native integration between CRM and cloud storage like SharePoint, Dropbox, and Azure Blob Storage. An intuitive and easy-to-use UI of Attach2Dynamics enable users to drag and drop, upload, download, delete, and perform several other functions right from within icrosoft CRM. With the help of Attach2Dynamics, you can also migrate history attachments in bulk.
As the name suggests, it Syncs Microsoft Dynamics 365 CRM and SharePoint security privileges to diminish security risks while storing documents/attachments in SharePoint. SharePoint Security Sync allows managers to restrict users' level of access in SharePoint to the same level that is assigned to them in Dynamics 365 CRM. Furthermore, the DocuSign feature of SharePoint Security Sync allows users to electronically sign and send documents with ease.
Visualization Apps:
Kanban Board is a productivity app to visualize your Microsoft Dynamics 365 and PowerApps data in a Kanban View. In the Kanban view, records are sorted and arranged systematically in compact moveable cards in multiple lanes and rows. This systematic arrangement provides quick view and easy analysis. Kanban Board also helps in updating the underlying field values of records by easy drag and drop capability. Kanban view can be configured for any view in Microsoft Dynamics 365 CRM and Dataverse.
Map My Relations allows user to visualize relationships and connections between CRM entities and records in a mind map style. With a quick glance, the user can get all the information that matters about a record without having to navigate around to get the various pieces of information.
Subscription and Billing Apps:
Subscription and Recurring Billing Management is primarily curated for all subscription-based businesses for automating subscriptions, recurring billing and tax calculations within Microsoft Dynamics 365 CRM. This app eliminates billing bottlenecks and ensures accuracy and efficiency in the process of managing subscriptions smooth and easy and saves time.
With this Auto Tax Calculator tool, users can automatically calculate tax within Dynamics 365 CRM for sales. This app helps in eliminating manual calculations, increasing accuracy, and save time for the sales team. Tax rates can be manually entered or you can integrate with AvaTax from Avalara.
User Adoption Apps:
User Adoption monitor is designed specifically for tracking and monitoring actions performed by users in Microsoft Dynamics 365 CRM. It is an effective tool for managers or administrators for monitoring Microsoft Dynamics 365 CRM user adoption. It enables managers to visualize stats of users on dashboard and leaderboards and allow them to analyze individual performances and implement measures to improve user adoption.
A gamification app that aims to enhance Microsoft Dynamics 365 CRM productivity and adoption by creating an enriching and motivating environment for CRM users through engaging games and activities. With Gamifics365, appealing games can be created to encourage healthy competitions between individuals and teams across devices.
Productivity Apps:
Copy/Clone Microsoft Dynamics 365 CRM records along with relationships with Click2Clone. Create duplicate records, automate the cloning process with workflows and eliminate manual entry errors. Deep clone records for hierarchal relationships. Add Prefix/Suffix to the cloned records to create unique names and much more.
A powerful app to export Report/CRM Views/Document templates from Microsoft Dynamics 365 CRM in a single click. With this 1-click app Dynamic CRM users can export Reports/ Word/Excel Templates or CRM views and attach them as a note, upload to SharePoint, download for offline use, or auto send Email with attached exported data in tabular format. Using Click2Export, export reports in multiple formats such as Excel, Word, CSV, or TIFF format.
A productivity app that helps you to undo changes in Microsoft Dynamics 365 CRM with a single click. Undo2Restore can seamlessly restore last change that you would want to restore, or past changes which you want to get back. Hence, it acts as a safety net for CRM users and allow them to conduct routine activities without fear of loosing data due to human or technical errors.
A Productivity app that systematically assigns or distributes Leads generated through various sources to respective Microsoft Dynamics 365 CRM users using Round Robin and Capacity Algorithm. With this tool, managers can allocate and distribute incoming leads and customer queries in an organized way. This results in fair distribution of workload within teams. Automated distribution and assignment improve efficiency resulting in higher sales and profit.
A versatile productivity app for Microsoft Dynamics CRM to Alert your team with any kind of information that could be significant to their business right within their CRM. With Alerts4Dynamics, users can create alerts for any record (s) and send it to target users as notification. This notification can be accessed from anywhere in CRM.
A new productivity app for Microsoft Dynamics 365 CRM users that simplifies creation and enforcement of business specific playbooks, guidelines, and policies at every stage of the process. With BPC, managers no longer need to be worried of the quality of actions by their team personnel or errors in record updates or even the cost of non-compliance, as they can enforce the defined/desired business process.
All these apps are made to make your daily interactions with Microsoft Dynamics 365 CRM more efficient and productive. Therefore, join us and reach the peak of your Dynamics 365 CRM experience.
Download 15 days free trial of any of these from Microsoft AppSource or Inogic website.
Please feel free to write to us at crm@inogic.com for further details or a live demo on any of these. We also have a dedicated team for Microsoft Dynamics 365 and Power Platform offshore Development Services, contact us today for a free quote to get your technical extension.