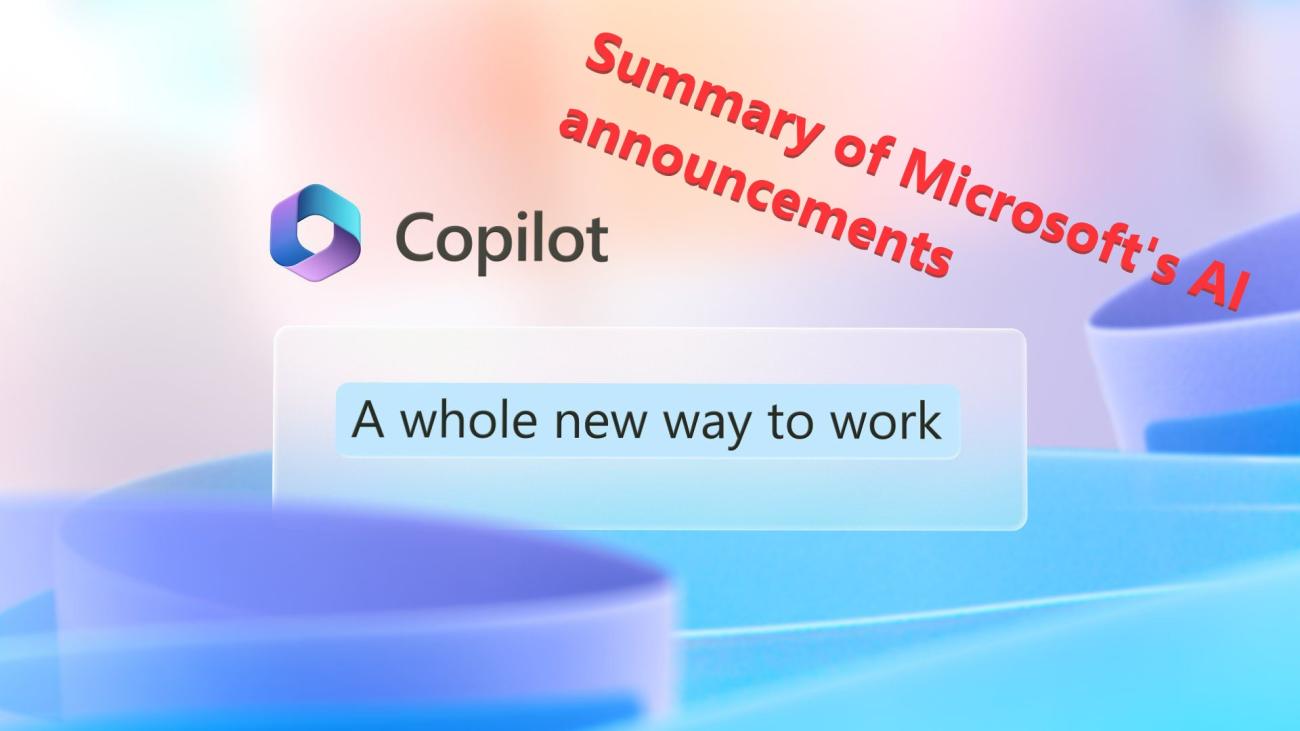 Summary of Microsoft's AI announcements - Copilot and GPT
Here is a summary of Microsoft's crazy announcements around Chat GPT and Azure AI implementations in Microsoft tools like M365, D365, Power Platform, and Windows. The future is right around the corner dear friends!
Power Platform
Microsoft Power Apps Copilot
How next-generation AI in Power Apps is changing the development process of low-code applications? Users can now start building their apps with a simple natural language description and receive assistance from an AI copilot throughout the development process. The copilot will help refine and update the app and provide suggestions to improve it. This makes the app development process faster and more efficient. The future of low-code app development has arrived, and users can now describe their app ideas and have them built by Power Apps
Copilot in Power Virtual Agents
Let's simplify the process of creating bot topics using natural language. Copilot generates an entire topic, including trigger phrases and questions using Prebuilt Entity types and multiple-choice questions based on user specifications. Users can also iterate using natural language and generate JSON for adaptive cards, summarizing customer details. The feature allows for easy editing, testing, and publishing of bots on various channels. Copilot and other GPT features aim to democratize conversational AI and make bot building natural for everyone
Dynamics 365
Copilot in Microsoft Viva Sales
Copilot assists in crafting email responses by generating suggested replies enriched with content from the CRM data, and Viva Sales can store and update the insights back into CRM. Sales Conversation Intelligence takes notes during customer calls and meetings, capturing the key meeting highlights, questions asked, and follow-ups. Using Copilot, GPT generates a customer-ready meeting summary in a single click, which embeds CRM data and previous meeting context for review and validation. Overall, Microsoft Viva Sales aims to help sellers close deals faster by providing useful tools for communication and data management
Copilot in Microsoft Dynamics 365 Marketing
Copilot assists marketers in creating personalized emails by defining the audience for the email and providing tips and suggestions for email content. The tool allows marketers to tailor the tone of voice for each brand and region's communication style, saving time on copywriting and audience targeting. The generative API for marketing scenarios has been tuned through hundreds of companies and marketing emails in the public domain, resulting in faster delivery of the most relevant and engaging content
Copilot in Microsoft Dynamics 365 Customer Service
Copilot in Microsoft Dynamics 365 Customer Service uses generative AI to help support agents quickly generate optimized responses for customers with a single click. Copilot empowers agents to leverage company knowledge sources and saves them time in searching and typing. It can also summarize and draft responses for live chats. With Copilot, agents can be more productive and provide better customer experiences. The video showcases examples of how Copilot is used by a support agent at Microsoft Azure to resolve complex issues quickly and efficiently. Copilot is said to revolutionize agent productivity and customer experience across all engagement channels, helping organizations earn customers for life
Copilot in Microsoft Dynamics 365 Customer Insights
Copilot in Microsoft Dynamics 365 Customer Insights allows marketers to gain new customer insights without requiring expertise in analytics. Using natural language, marketers can ask Copilot for insights and receive an immediate answer. The tool suggests additional questions to help marketers uncover previously unconsidered customer data. Copilot aids marketers in gaining a deeper understanding of customer preferences and needs in near real time, enabling them to deliver effective campaigns and unlock more revenue
Copilot in Microsoft Supply Chain Center
It helps users to stay close to their suppliers, respond quickly to critical situations, and maintain healthy inventory levels. Copilot's news module keeps users informed about events that impact critical logistics. The tool also generates AI-powered emails containing all relevant information for contacting suppliers and mitigating disruptions. It allows users to act swiftly, detect problems, and take immediate action without leaving their workflow
Copilot in Microsoft Dynamics 365 Business Central
Copilot helps users in Microsoft Dynamics 365 Business Central in creating engaging product descriptions for their online stores. It uses AI-powered experiences to analyze product images and suggest categories to minimize data entry. Copilot uses natural language technology to generate a tailored description enriched with key data from the product record. The tool also allows users to select which product attributes are most relevant and choose a consistent format for generated text. The first-party connector to leading e-commerce platforms enables businesses to accelerate time to market and improve conversion rates with great product descriptions.
Microsoft 365
Microsoft Word copilot
This is how Copilot in Microsoft 365, can assist users in generating proposals quickly and efficiently. Copilot can scan target files, generate a first draft, and suggest ways to enhance the proposal, such as adding an FAQ. Additionally, it can insert product images and format the document in a user's preferred style
Microsoft 365 Copilot in Excel
Here Copilot uses natural language processing to help users analyze and understand data. Copilot can quickly provide insights, create new sheets for further exploration, and even generate models based on "what-if" scenarios. It can also create visualizations and graphs to help users better understand their data. Overall, Copilot in Excel aims to turn complex data into clear insights and actions.
Microsoft Power Point copilot
Copilot will help users create professional presentations with ease. The feature allows users to translate Word documents into PowerPoint presentations and vice versa, saving time and effort. Users can also add slides to their presentations by providing quick instructions to Copilot. The feature can even make wordy slides more visual and professional-looking by animating them with a single click.
Additionally, Copilot generates speaker notes for all slides, making it easier for presenters to deliver their presentations effectively. With Copilot, users can create customer-ready presentations without having to start from scratch. This feature is ideal for individuals who want to create visually appealing presentations without investing a lot of time and resources. Overall, Microsoft 365 Copilot is a valuable tool for individuals and organizations that want to create compelling presentations with ease.
Microsoft 365 Copilot in Outlook
Let's imagine a Copilot that could helps users manage their emails efficiently? Copilot enables users to prioritize important emails and summarize long email threads. It can also generate a reply using data from an Excel file, which can be edited by the user before sending. Copilot is available in Outlook mobile and is touted as a game-changer in productivity.
Microsoft 365 Copilot in Teams
Allows users to follow a meeting and receive a summary of what they missed after the meeting ends. The summary includes content that was shared, notes, action items, and even allows users to ask Copilot clarifying questions for more context. This feature is designed to save time and increase productivity.
Microsoft 365 Copilot in Teams Meetings
Microsoft 365 Copilot in Teams Meetings is a tool that can summarize discussions and capture the spirit of the conversation in real-time during meetings. With Copilot, users can ask for a summary of what has happened so far, who said what, and what points were made. Additionally, users can check where people stand and ask Copilot what questions are unresolved, making every meeting more productive
Microsoft Business Chat
It helps users prepare for customer meetings by summarizing recent interactions and finding relevant information from various data sources such as emails, chats, documents, and meetings. The tool is called Copilot and it provides a concise summary with citations and can also help users find specific information they need. This tool aims to help users be more prepared for their customer meetings
Summary of Microsoft's AI announcements - Copilot and GPT