Microsoft announced a year ago, the 2021 release plan wave 2 for Dynamics 365 which bring us a bunch a new interesting feature.
Let's review the all list and see what might be interesting for us for each module.
Dynamics 365 Marketing :
Use AI-powered ideas to automatically generate content for emails
AI suggestion in Marketing emails. It generate automatically content snippets based on key points regarding the very contact to who the email is sent
Basically, a side pane opens when creating a marketing email and suggest content based on the Contact and related key data
Use natural language to create targeted segments
We can now use natural language sentences to build segment in Dynamics Marketing.
Example below : "Contacts who lives in ireland" becomes a query
Optimize the performance of emails in the new outbound marketing email editor with A/B testing
A/B Testing which allow the user to test two version of email to a sample of Contact and analyze the reactions. Then you can choose which of both has the best result and send the email to the full segment.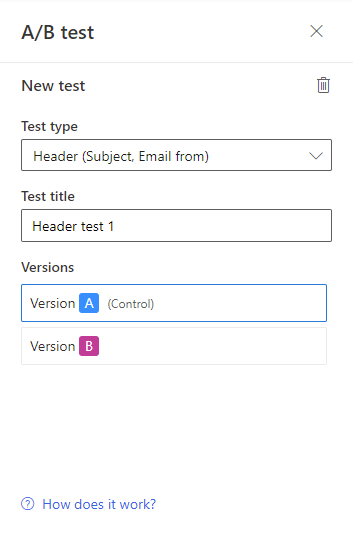 Monitor how your consumption is tracking against your quota
You can now view your marketing contact and interaction quota together with consumption levels on the new quota page. This will allow you to better understand how your outreach changes over time.
Gain a wealth of new actions from a journey by raising triggers from journey steps to run another journey or Power Automate flow
Raise a custom event trigger at any point in the customer journey and use profile data about the customer or prior events to set the attributes for the event trigger.
Any journey or Power Automate flows connected to the custom event will be triggered immediately when a customer reaches the tile. This includes event triggers used in exit criteria, goals, and if/then branches for journeys.
Send SMS messages using Twilio and TeleSign integration
It is now possible to integrate SMS directly inside Dynamics Marketing with provider like Twillio
If the communication is made through SMS and not by email, it might be an interesting feature allowing a straightforward integration
Export images from outbound marketing to the real-time marketing asset library
You can now transfer assets from outbound marketing to the real-time marketing asset library in just a few steps. From outbound marketing's file section, choose the assets you want to copy to the real-time marketing asset library and copy with just one click.
Reach more customers with a 10X increase in the scale of interactions in real-time marketing journeys
Send up to 100 million outbound interactions (email, SMS, or push notifications) per month to a maximum of 20 million contacts using real-time marketing journeys.
Easily link to documents stored in the asset library
Easily link to documents and files stored in the asset library.
Link to externally hosted documents.
Upload new documents to the asset library right from the email editor.
Personalize emails to include lists of related data
To save time and further personalize your emails, you can now include lists of related data that are specific to the individual receiving the email. For example, add a list of sessions in a conference registration email or a list of purchased items in an order confirmation email.
Gain more control over journey branching conditions through increased attribute support
 You can now create journey branches based on any attribute associated with the customer or event trigger that started the journey. In addition, for attributes based on date and time, you can create branches based on relative or partial dates.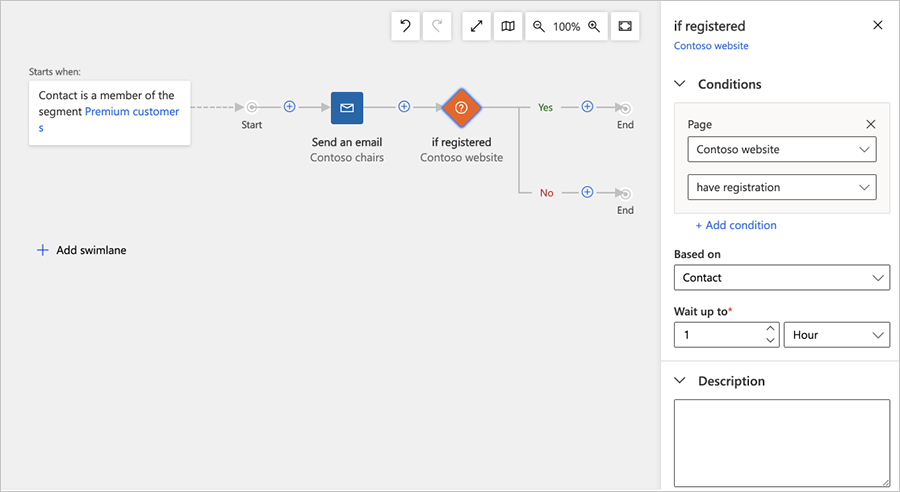 Dynamics 365 Sales
Focus sellers on the right actions with a worklist ownership enhancement
Worklists will be populated based on activity ownership instead of entity ownership.
For example, if the opportunity is owned by a seller and the product expert has to prepare the demo, the product expert will see the demo preparation activity and take action on it without having leave your Sales Accelerator workspace.
Leverage the power of LinkedIn actions as part of smart sequences
This functionality would allow you to leverage LinkedIn Sales Navigator in your sequence to recommend the next best action.
Manage better sales process outcomes for sequences using grid view
Improving seller productivity with bulk actions and email engagement insights.
Collect similar activities together based on activity type, template, or sequence/Provide a bulk action to complete activities/Provide ability to review and edit if required
Automatically route leads, opportunities to correct sellers
Define rules for automatic assignment. The following components are included:

Segments: This is a group of leads/opportunities that can be assigned to the rule.
Lead attribute: Lead attributes that need to be considered should be maintained here.
Seller attribute: The attributes and skills of the sellers that need to be evaluated for lead distribution should be mentioned in the rule.
Distribution method: Leads and opportunities can be distributed either through round robin or load balancing methods.
Ability to define seller attributes and assign to the seller: Seller attributes can be specifically defined for assignment rules.
Maintain sales team and capacity: The user can maintain the sellers who would receive the leads. The capacity of the sellers can also be used, which would be taken into consideration when distributing the leads and opportunities.
Guide sellers with longer details in sequence steps and make those details available in step form
Sales managers can now write sequence step descriptions up to 2,000 characters to help sellers with detailed instructions.

Sellers can expand or collapse detailed instructions.
Sellers can select and open URLs in the description.
Sellers can use the description provided in the step details form for reference.
Focus on the highest impact activities with advanced filtering
This functionality will enable sellers to filter information based on standard as well as custom fields. The functionality can be enabled from the settings where a sales engagement manager (SEM) can define filters relevant for business scenarios. A SEM would be able to extend the current filter based on standard and custom fields.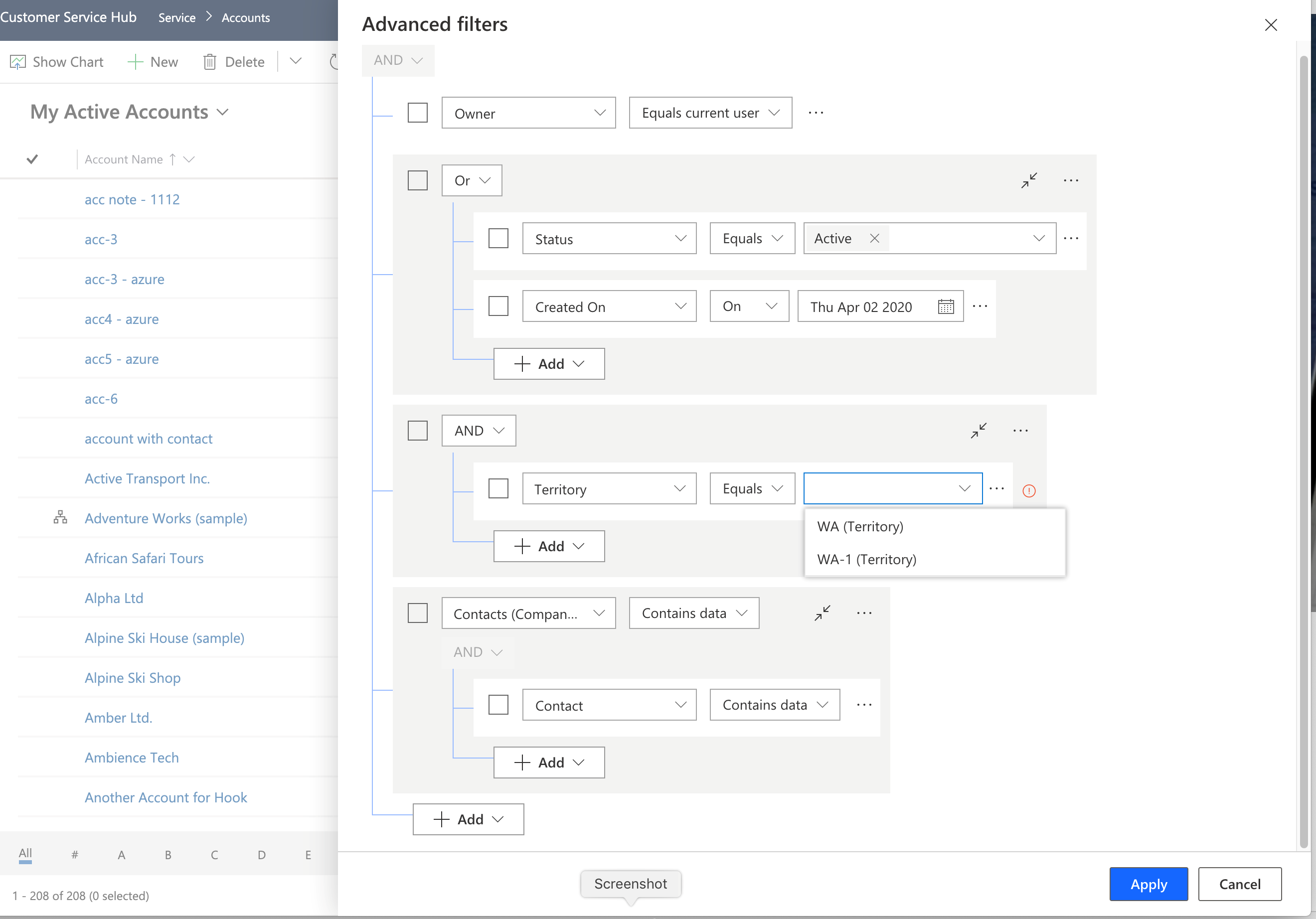 Easier setup experience
This feature will include the following functionality:

Redesign the sales accelerator configuration page for quick setup. 
Streamline configuration for sales accelerator features, making the process easy and intuitive.
Template sequences.
Auto-connect sequences.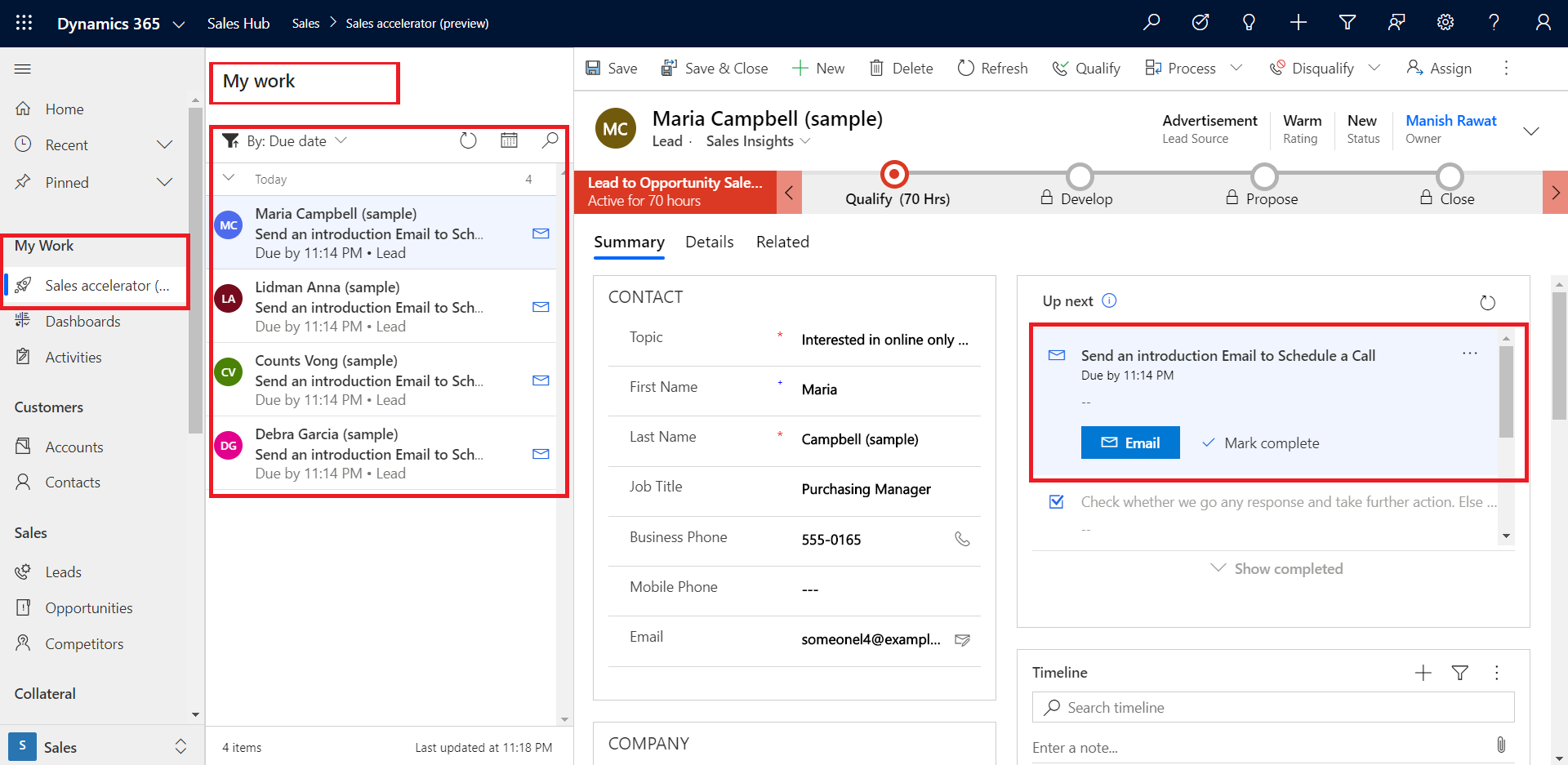 Make and receive calls and join meetings directly from Dynamics 365
Microsoft Teams calling and meetings from Dynamics 365.
Real-time analytics and action items for Microsoft Teams calling and Microsoft Teams meetings.
Connectivity to Dynamics 365 entities.
Third-party telephony system (3P) calling in Dynamics 365.
Incoming calls in Dynamics 365.
Seller-side-only recording.
Advanced and critical business insights for any customer interaction to enable sellers to be more data driven
Executive summary for two-party calls.
Automatic language switching during calls.
View-as functionality, to impersonate another user to troubleshoot conversation intelligence stand-alone app.
Expose comments on call timeline.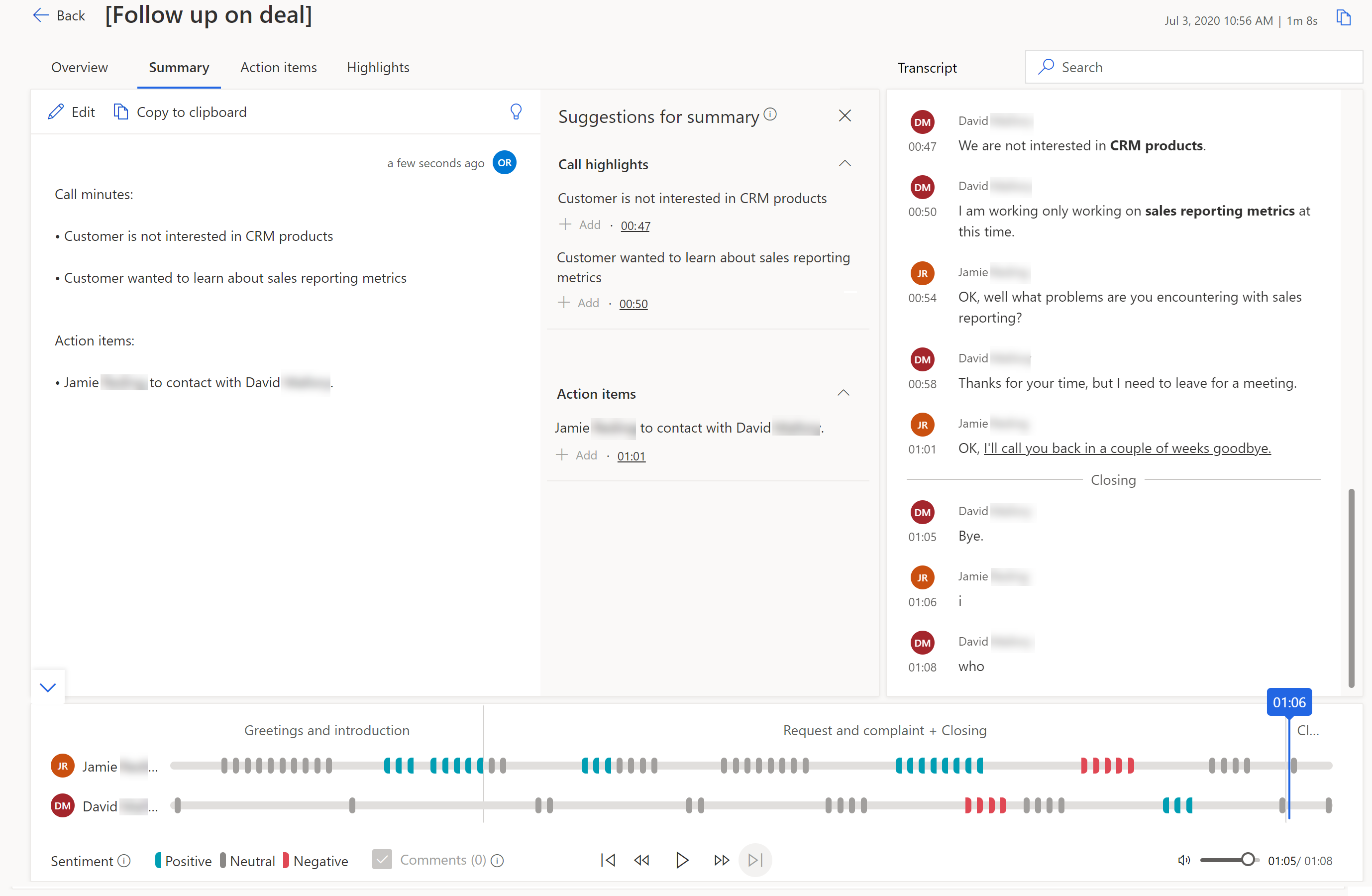 Improve predictive scoring by enabling intelligent field augmentation
As an administrator, you can select an attribute as an augmented field from the edit fields page. Using field augmentation, you can identify the fields and key values for training the AI model. Field augmentation could include:

Whether a customer is new or returning.
Whether an email is legitimate or fake.
Recent activity.
Phone number length.
Private or public email domain.
Contact ID.
LinkedIn Sales Navigator integration migration from cookie-based to token-based authentication
Users are able to do the following:

Sign in to LinkedIn Sales Navigator through the LinkedIn Sales Navigator widgets.
Provide consent to Dynamics 365 to access their LinkedIn Sales Navigator account. Ensure that pop-ups are not blocked in order to allow the consent screen to appear.
Sign in to their LinkedIn Sales Navigator account through Dynamics 365.
Power Apps
Intelligent authoring experience with Power Apps Studio
Integration of AI within Power

Fx

formula : use simple formula language and get the Power

Fx

function done !

It

allows

developers

to

ease

the

development

by

writing

in a simple

way

what

they

want

in

order

to

get

the formula

built

by the AI.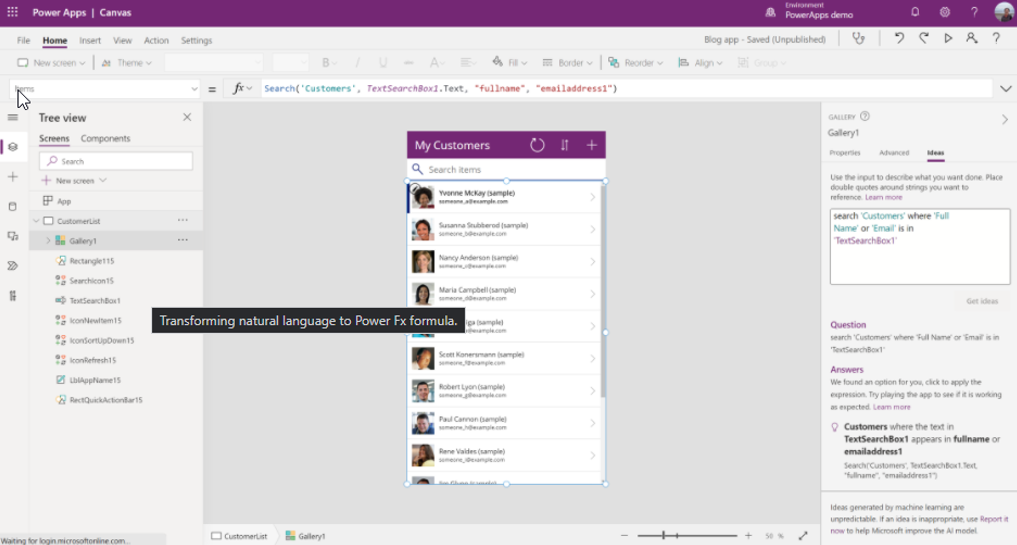 Support for themes across Power Apps
Theming standardization across model driven app, canvas app or Teams.

Theme specific object available within Canvas App and Model Driven App

Ability to use dynamics theme depending on where is embedded the Canvas App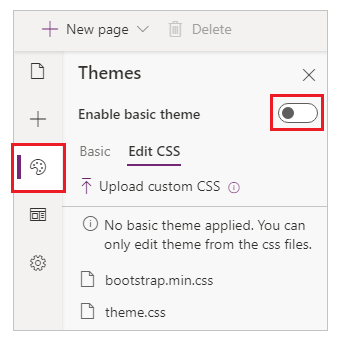 Reinvented maker experience for configuring offline mode
Easier

way

to manage the Offline mode : One

toggle

to switch to enable the app in Offline mode

No

need

to set an offline profile to a user or to select the tables

which

must

be

available

offline as

it

was

so

far
Canvas component and component libraries
This feature will allow App maker to reuse components that they stored in a library

Developing

multiple app

which

are

using

the

same

components

It

also

ease

the process of updates and release

with

components Library
Code component improvements
We

will

be

able to export a Canvas App as .

msapp

possibly

open in

classic

text

editor in

order

to

modify

the

PowerFx

code

directly

in

it
Button editor Power Apps like
The app

editing

style of

canvas

app

will

be

extended

to Model Driven App

Allow developer to customize buttons using Power Fx formula
Dynamics 365 Customer Service
Agent workspace inbox view
The inbox view is integrated into Customer Service workspace and Omnichannel for Customer Service. This view helps agents more effectively navigate their cases and conversations, as well as address their customers' issues in a timely manner.
The inbox view leverages core productivity features of the agent desktop, such as timeline, recent cases, AI-based suggestions, and knowledge search.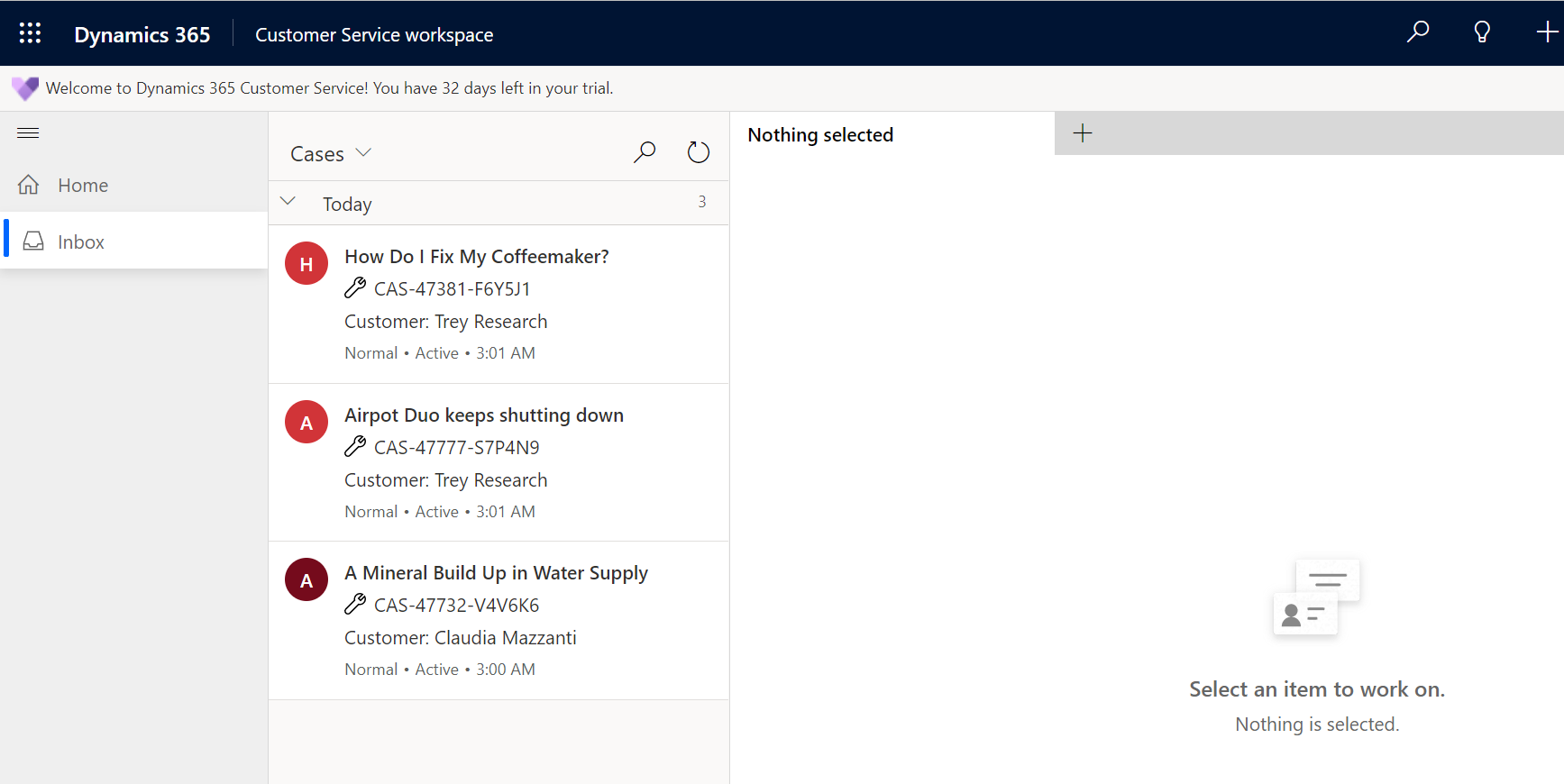 Increase agent productivity with contextual collaboration using embedded Microsoft Teams
Ability to chat with contacts from within Dynamics 365.
Access to key Customer Service contacts, such as supervisors, queue members, and support experts.
Access to AI-driven suggestions of agents who resolved similar cases.
Access to recent Microsoft Teams chat lists.
Ability to link and unlink chats to case records.
Access to linked Microsoft Teams chats.
Message avatar and presence, where users can easily see profile pictures of a chat participant and their availability (presence).
Modern control for subject entity
Easy-to-view subject tree hierarchy
Ability to search across parent subjects and child nodes
Highlight search results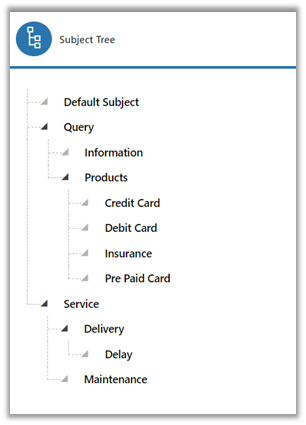 Scheduling and IoT capabilities in Customer Service workspace
Manage IoT alerts.
Manage devices.
Create a case from an alert.
Relevance search integration for knowledge management in portals
This feature enables portal users to use Relevance search while looking for knowledge management articles in the knowledge base. Relevance search replaces the current portal global search and has the following key capabilities:

Content access levels: Use another level of control that's separate from web roles to control access to knowledge articles on a portal.
Filters: Filter knowledge articles by rating and modified date.
AI-suggested keywords and brief description for knowledge articles
Key capabilities for this feature include:
Automatic suggestion of article keywords based on an article's title and content present on the article.
Automatic suggestion of article description based on the article's title and content.
Call intelligence and Call recording
This capability leverages the call transcription and sentiment analysis to produce the following metrics:

Talking speed
Switches per hour
Pause before speaking
Longest customer monologue
When a phone conversation begins between a customer and an agent, the agent will have the option to record the phone call. The agent can pause and resume the recording at any time, which can help prevent irrelevant or sensitive information from being recorded.
Bring your own data to timeline
A new virtual data model provides makers with the ability to develop solutions that allow them to bring data that is not stored in Dataverse and display it on the timeline. The data contract provides full support for the current record card layout and filters, allowing for a seamless user experience, irrespective of the source of the data.
Dynamics 365 Field Service
Windows 10 support for Field Service (Dynamics 365) mobile app
Robust offline support.
Outlook style calendar for bookings, with intuitive user interface for quick service tasks completion and more.
Tailored user experiences available with Power Apps Component Framework with hundreds of powerful controls out of the box.
Access to device camera to take pictures and scan barcodes.
Deep-link support into the Field Service mobile app.
Collaborate throughout the work order lifecycle with embedded Microsoft Teams
Chat with colleagues from within the work order form, even if the conversation is not related to the work order, saving you from switching to the Microsoft Teams app whenever you need to chat. View your existing chats, or initiate a new chat.
Initiate a new chat with one or many colleagues, and optionally link the chat to the work order. When you initiate a new linked chat, you're creating a brand new chat, which means any previous conversations you had with the chat participants will not be brought into the new discussion, keeping the context of the chat all about the work order.
If a chat is linked to a case, and the case is then converted into a work order, that chat will automatically link to the work order for seamless cross-departmental collaboration.
Associate conversations to the work order, making it easy for your team members to see a clear picture of the status and history of the work order, right in the context of their workspace. As new people engage to help complete the work order - such as a new frontline worker to help fix a problem - they can easily join the conversation and help deliver exceptional service.
Field Service (Dynamics 365) mobile app usability enhancements
Ability to add up to three custom fields on the mobile booking calendar control. Users will be able to see at a glance the information they need to prepare for upcoming service visits.
Multiline text boxes will now expand to fit the amount of text entered.
Date and time input will leverage default input controls provided by the device operating system. Use the same input patterns that you are familiar with in other apps on your mobile device.
Work orders will default to use modern task-completion controls for work order service, work order product, and work order service tasks. Easily check off completed tasks and update products and services used with large, touch-friendly icons.
Functional location and asset tree improvements
If you initially searched for locations but not assets, check Show assets to immediately retrigger the search and show the matched assets.
When searching for assets or locations, you can now see how many records match the search.
You can expand and collapse multiple nodes of the tree at once with the global expand and collapse buttons.
Matched search results are now highlighted even more clearly to help users see the matches.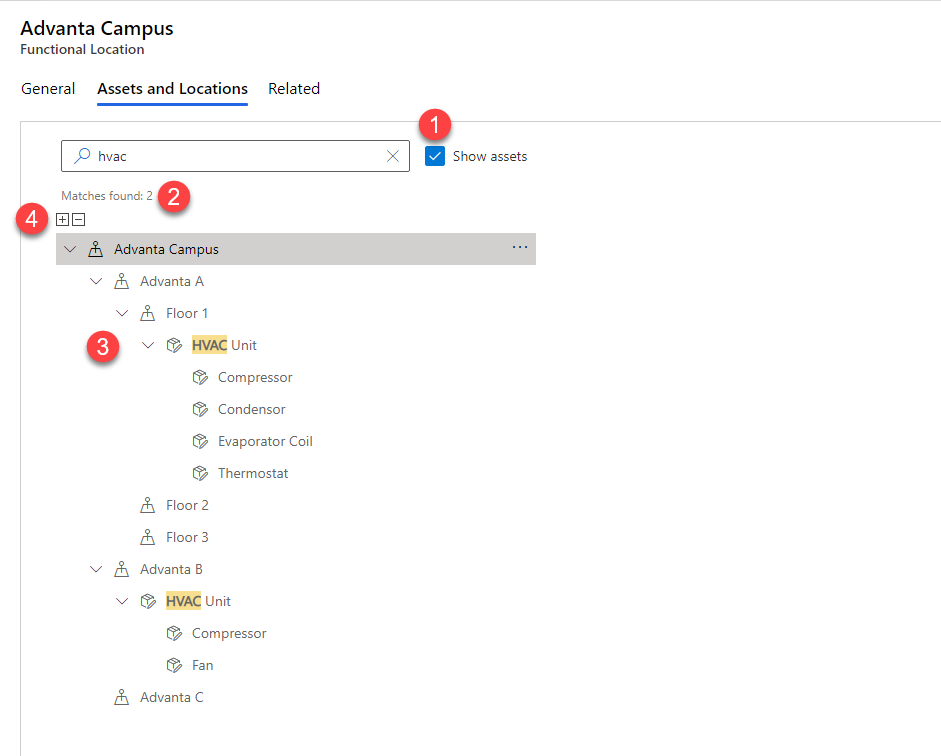 Modular work order pricing
For many Field Service organizations, pricing is not something they intend to use within their Field Service implementation. This can be because:

These service organizations don't need to see pricing information or generate invoices, perhaps because they provide services to their own internal field resources and don't need to calculate a price for an invoice.
Organizations may intend to generate invoices from their downstream, existing ERP systems and only need Field Service to send over the relevant data that the downstream system uses to generate a price and accurate invoice.
Field Service pricing will continue to be on by default.
To disable, a Field Service administrator or system administrator can change the Calculate Price toggle in Field Service settings.
When pricing is disabled, required pricing fields and logic are disabled and removed from the work order, work order product, and work order service records; relevant out-of-the-box views for both web and Field Service mobile app users are updated.
Enable location sharing by default for new organizations
Key notes about this functionality:

Location sharing will be enabled for new organizations only.
This update won't impact existing deployments, nor organizations in the sovereign cloud.
Admins can disable location sharing; for more information, see our Field Service documentation.
When frontline workers download the Dynamics 365 Field Service mobile app, they will get the mobile OS prompts to control how they share their location.
For location sharing, your data will flow outside your organization's compliance and geographical boundaries. See Microsoft Privacy statement for more information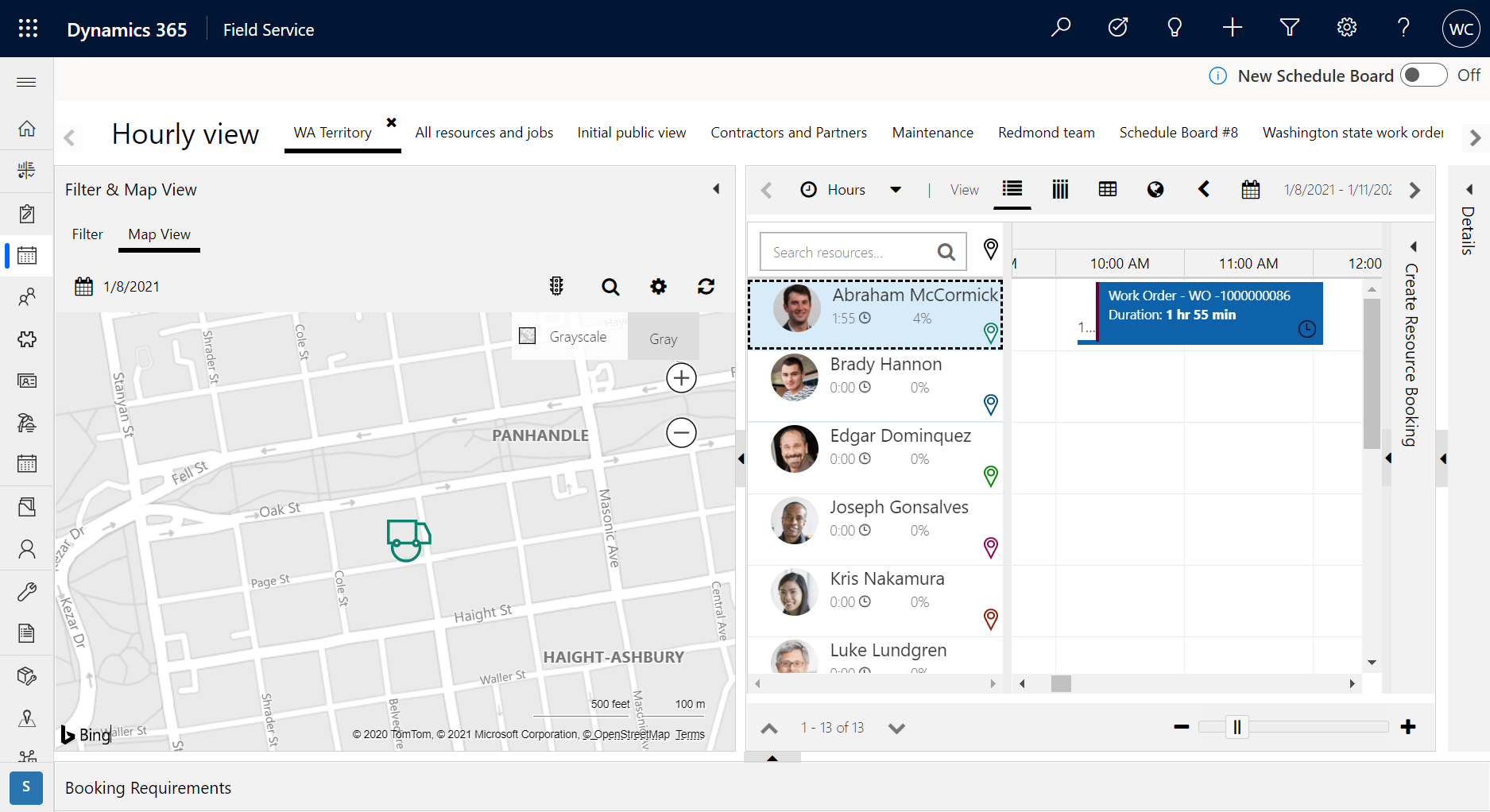 Resource work hours extensibility
With the new resource work hours extensibility, you can use APIs to:

Update a resource's work hours. For example, a resource works 9 AM to 5 PM, Monday through Friday; these hours can be changed to 10 AM to 4 PM with a 1-hour of break at 1 PM on only Mondays and Wednesdays.
Delete a resource's work hours. For example, a resource has a day off planned for next Monday, but as the resource's plan change, they can delete the time off.
Improved user experience with new schedule board enhancements
We are bringing the following capabilities to the new schedule board:

Find availability functionality for finding the best available resources to schedule jobs, which could last from a few minutes to as much as a few months. Single resources (such as accounts, contacts, users, and equipment) or multiple resources (such as crews, pools, and facilities) can be scheduled to jobs.
Make the settings available on the schedule board tab so users can create and configure their tabs, and don't need to switch back to the old schedule board.
Custom fields on a work order or requirement can be displayed as a filter on the schedule board, and can also be considered while finding the best available resource via custom attributes by using the Universal fetchXML queries.
Custom fields on the work order or requirement can be displayed on the booking information or booking alerts that are displayed on hourly view of the new schedule board.
Customers can use custom JavaScript methods that can be executed prior to creation or update of the bookable resource booking records on the hourly view of the new schedule board.
The schedule board functionality in hourly view can be extended via different client-side extensions such as scripts, stylesheets, and localization.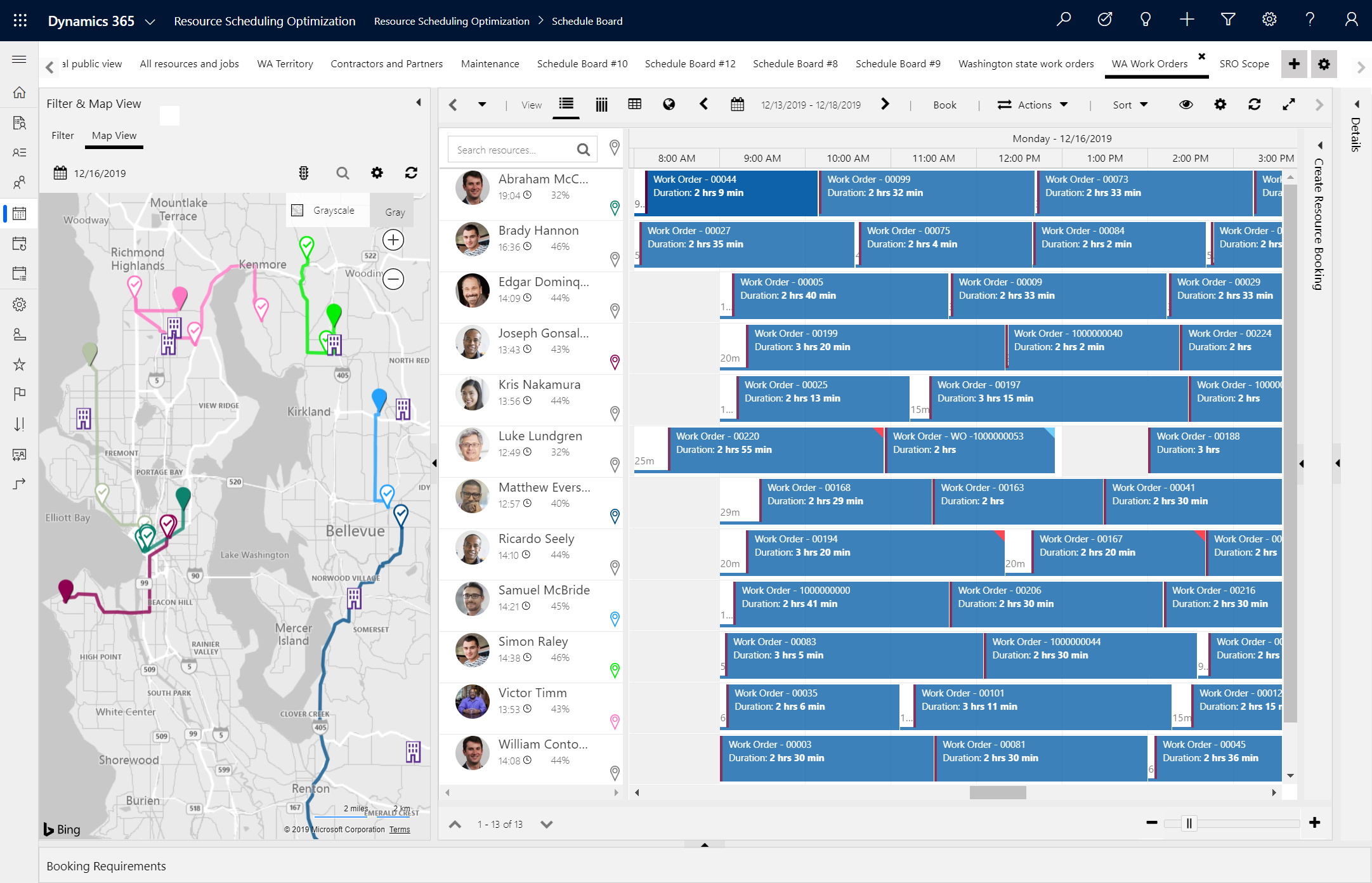 2021 release plan wave 2 for Dynamics 365