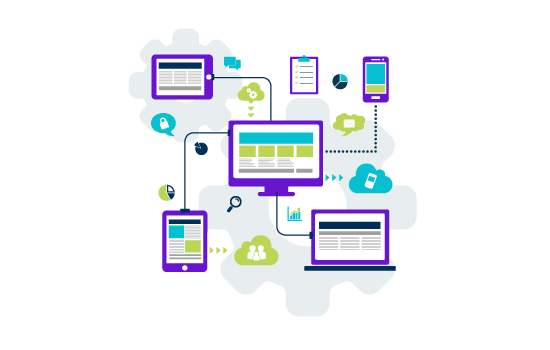 Maintaining current knowledge of what Dynamics 365 offers can become very challenging when Microsoft releases new updates regularly.
Customer relationship management and business resource planning elements, as well as a number of productivity tools and artificial intelligence tools, are all connected by Microsoft Dynamics 365, a platform for cloud-based business applications.
The different modules that are offered and the features they include are the focus of this article. This guide will examine the various Dynamics 365 module categories in this guide to help you select the one that best suits your company's needs.
Dynamics 365 for Commerce:
The Dynamics 365 for Commerce is perfect for retailers since it enables you to combine your brand's back office and in-store activities efficiently. By allowing for customization, this technology improves the in-store consumer experience and increases personnel efficiency.
Retailers can use this module with the dynamics 365 portal to develop cutting-edge shopping experiences, which help retain customers by providing a dependable shopping experience, boosting income, and guaranteeing customer pleasure.
 This module can be helpful for the following:
Improve sales by effectively managing many stores.

Be quick to adjust to your client's ever-changing wants.

Lower satisfaction costs, improve inventory usage, and successfully manage your business by utilizing customer insights.
Dynamics 365 for sales:
This module was created to enhance sales, regardless of whether your business focuses on B2B or B2C.
Use the Dynamics 365 for Sales module to manage and organize your company's sales process. You have all the resources you need in the sales module to turn your client relationships into a measurable turnover.
Thanks to the sales module, you can:
With embedded analytics, enable smarter selling.

Encourage sellers to engage in genuine, personal conversation to build relationships.

Utilize seamless tools to increase seller productivity.

Better sales results.

Obtain additional AI-driven insights to boost sales.
Dynamics 365 for field services:
Delivering a smooth, end-to-end service experience is easier with Dynamics 365 for Field Service, and its enhanced intelligence helps you identify service issues before they arise.
You may cut operational costs and provide actual, satisfying field experiences with the aid of this module, which was created to support the field service team.
With the help of Dynamics 365 for Field Service, you can:
IoT can help you improve your operational performance.

By proactively identifying, debugging, and resolving problems, you may enhance your service experience and ensure that a technician is only called in when necessary.

By automating the process of dispatching the appropriate technician, you can maximize the use of your resources.

Gain the total trust of your consumers by providing your specialists with a 360-degree picture of your clients and real-time management to speed up response times.

Offer consumer self-service portals and proactive updates.
Dynamics 365 for supply chain management:
Dynamics 365 Supply Chain Management manages the production life cycle, starting with developing the production order, batch order, and more.
It concludes with a manufactured good ready for a consumer or another production stage. To complete the process, many types of information are needed at each life cycle step. Different production procedures are required for various product categories.
You have all the tools you need to automate and streamline your supply chain in Dynamics 365 Supply Chain Management. Additionally, you can:
Modernize the logistics of the company

Provide prompt customer service

Determine demand

Streamline the procurement process
Dynamics 365 for business central:
The Dynamics 365 Business Central is an all-in-one ERP solution for small and medium-sized organizations.
This adaptable and flexible solution will satisfy all of your needs, including those for finance management, supply chain management, manufacturing management, and project and service management.
Microsoft Dynamics 365 Business Central provides a robust system that streamlines operations, boosts productivity, automates routine processes, and grants you privileged access to all of your data through a single user interface.
Here is a summary of what Business Central can do for you:
Cost-cutting and cost-control

Establish roles for everyone and increase productivity

Increase sales and customer satisfaction

Improve your supply chain.

Scale up your system as your firm expands.

Safeguard your info.

Access to a current remedy at all times

Easily integrate all of your business solutions.
Dynamics 365 for marketing:

Email The subscriber's email address.
By utilizing advanced marketing strategies, Dynamics 365 for Marketing assists in generating and maintaining an increased number of sales-ready leads. And this module aids in converting prospects into client connections.
With the dynamics 365 portal for marketing, you can automate processes, connect sales and marketing, and make more informed decisions to increase your marketing ROI.
To increase the return on your marketing investment, integrate sales and marketing, automate procedures, and make wiser choices. With the best Dynamics 365 marketing, you can:
Additional leads should be produced via other channels.

Prioritize leads, monitor development, and automate transfer to marketing teams.

Utilize analytics that monitors marketing performance to raise marketing ROI.

Driving multi-channel marketing

Personal experiences when buying

Streamlining event management
Dynamics 365 for customer service:
Any business involved in providing after-sales services should use this module. The built-in innovation of the module offers quicker, more individualized service and enhances the value of every conversation, even while the user is on the road. Using the customer service module, you can:
Engage with customers across any channel or device.

Make it simple for agents to satisfy expanding consumer expectations.

Make it simple for agents to behave appropriately when needed.

Utilizing data and intelligence to alter your service delivery methods, continually improve while lowering the cost to serve.
Dynamics 365 for human resource:
By providing your HR team with the tools, they require to succeed and deliver significant outcomes. MS Dynamics for Talent helps them to hire the top applicants.
The resources of Office 365 are combined with Dynamics 365 for talent to help you quickly locate and hire the best employees for your company.
With the help of this module, newly hired employees are given access to a portal that contains all the information they require in one convenient spot.
As all the details of your new employee's needs are already at their fingertips, this procedure will assist managers in managing resources and time efficiently.
A comprehensive solution is included in the Dynamics 365 for HR module to manage vacation leaves, payroll, training, and all other aspects of staff management.
Dynamics 365 for project service automation:
With the help of the project service automation module, you can optimize the project management process and boost growth while boosting productivity and profitability.
 Use the Project Service Automation module you can:
Efficient project management

Make the most of your resources.

Predict the success of a project.

Increased output

Utilize a flexible and contemporary platform to innovate.
Dynamics 365 for finance and operations:
When you want to automate and improve your supply chain system, the finance and operations module, which functions similarly to Dynamics 365's accounting division, is crucial.
The finance and operations module offers financial management, including all the reporting and analytical capabilities, as well as manufacturing tools for project management, production planning and scheduling, cost management, and warehouse and inventory control.
This module can be helpful for the following:
Improve your financial results.

Quicker account closure.

Produce thorough reports.

Profitability can be increased by using strategic monitoring.

Ensure universal conformity.
Final Thoughts:
One of the best things about Dynamic 365, as was said at the beginning of this article, is that you may choose whatever modules you genuinely need. Never try to chew more than you can put up with. Start small to scale your Dynamics 365 solution, give your team time to become used to their new solution, and then build on that strong user acceptance rate.